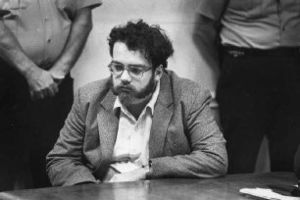 South Kingston - - Michael Woodmansee had been put away for good.
Or that's how revulsion and hope fused over the years in the village of Peace Dale, distorting memories. In people's minds, the monster who killed 5-year-old Jason Foreman in 1975 and kept the boy's shellacked bones and skull on his bedroom dresser would remain behind bars forever.
But Woodmansee, who in 1982 tried to strangle the local paperboy and ended up confessing to killing Jason, wasn't sentenced to forever. He got 40 years to serve.
Now, because of a prison reward system that shaves 10 days or more a month off inmates' sentences for good behavior, the perpetrator of one of Rhode Island's most detestable crimes is scheduled to be released 12 years sooner.
"Certainly there would not have been any anticipation of him getting out in 28 years," said Superior Court Judge Susan E. McGuirl, who as a state prosecutor in 1983 agreed to the plea bargain that spared the Foreman family a trial and revelations of possible other atrocities never made public.
The Foremans, the police and the hundreds of volunteers who searched for days for the missing boy - only to learn the horrific truth seven years later - just wanted Woodmansee gone for a very long time.
McGuirl knew Woodmansee might earn some time off his sentence. But 12 years? "That is shocking."
Jason Foreman disappeared on a perfect May day in 1975, the 25th birthday of his mother, Joice Foreman.
She last heard her son's laughter around 3:30 p.m. through the open kitchen window along Schaeffer Street, a short lane that runs up a gradual hill behind the Peace Dale fire house.
Michael Woodmansee, then 16, lived with his father in a grungy two-story house about a third of the way up the hill. The Foremans lived farther up the hill, on the other side of the street.
Jason was out back playing in the sunshine with his older brother John and three other boys. Their play took them into a small stand of woods, where they threw rocks at each other in a brief squabble over a fort, then out into the parking lot of an adjacent housing complex.
Around 4 p.m. Jason - blond, blue eyed and small for his 5 years - shouted "I'm going home," and ran down toward the fire station at the base of the hill. The start of Schaeffer Street was no more than 30 yards away. He would pass the Woodmansee house on the way home.
Michael Woodmansee was a heavy-set junior at South Kingstown High School, a loner who often carried a satchel of books for company.
He sat on the cement steps in front of his house as Jason approached.
Years later, he would tell police and a psychiatrist that he had been thinking about
"what it would be like" to kill someone. He thought it would be easy, easy to get away with it, and some form of fun.
He called Jason Foreman over to help him with something.
"I just saw him at the wrong time,"
Woodmansee would say.
Once the boy was in the house, Woodmansee stabbed him once in the chest with a kitchen knife.
For about an hour, "I kept checking to see if he was really dead."
Then Woodmansee placed the body in a plastic bag and took it into the basement.
He intended to bury the body under the foundation, but when he realized the floor was concrete, he wrapped the body in a rug and put it into a trunk.
Woodmansee would say that he didn't think about the body much until four or five years later, when his father said he was thinking of cleaning up the cellar and throwing out the trunk.
Around 4:30 the afternoon Jason disappeared, John Foreman began driving around the neighborhood looking for his son.
By 5:30, the boy had missed supper and the search became frantic.
By 7 p.m., the town's fire horn sounded for volunteers.
Over the next eight days, one of the largest searches in the state's history combed through the woods and bogs and ponds and backyards of South Kingstown. Eight hundred volunteers from at least four states stretched out over the town's 64 square miles amid the thwop-thwop-thwop of helicopters and barking bloodhounds.
Among those searching were Sharon and John Carney, who had moved next door to Woodmansee - with their two young children - a year before Jason disappeared.
Police searched neighborhood houses from basement to attic - - all except for the Woodmansee house.
Because Woodmansee's father, Franklin, was a police reservist, the police told him to check his own house for Jason.
An informal search for Jason went on for years, with police detectives traveling around the country following up on leads of small boys resembling Jason showing up in New Jersey, Montana, western Pennsylvania and California.
Throughout it all, Jason's mother, Joice - - who died in 2000 at the age of 50 - - continued to believe her boy was alive.
"Maybe a religious group took him, or maybe someone who had just lost a child took him," she said in a 1981 story. "I won't give up hope. They'll have to give me damn good proof that he isn't alive."
That proof would eventually come from Woodmansee's own lips, when another neighborhood boy ran home with a harrowing tale.
Patrick Strickland was in his 20s, and one of the newest recruits in the South Kingstown police department that April day in 1982 when Dale Sherman's father, Elwood, reported that Michael Woodmansee had tried to strangle his son.
Officer Strickland went out to the Shermans' house, there at the bottom of Schaeffer Street.
There came a moment, as the elder Sherman described to Strickland what had happened that Thursday afternoon, when both men suddenly looked at each other and then said at the same time: "Jason Foreman."
"Mr. Sherman and I both knew, or at least had a very strong feeling, that Michael was responsible for that," recalls Strickland.
Dale Sherman, 14, delivered papers on the street. That afternoon, Woodmansee called him over, invited him in and gave him liquor.
Sherman passed out. He told police he awoke to find Woodmansee strangling him with a red bandanna.
He freed himself and raced home.
Sherman's father, who had been desperately searching for his son, confronted Woodmansee and punched him. As Officer Strickland was leaving the Sherman house, Franklin Woodmansee flagged down Strickland to complain about his son being punched.
Strickland suggested that both he and Michael come down to the station to talk.
Strickland had grown up in town and knew Michael Woodmansee. Strickland's wife's grandparents lived behind Woodmansee.
At the station, Strickland began questioning Michael Woodmansee, first about the attack on Dale Sherman and then, slowly, suggesting Woodmansee might have something else to talk about.
Nervous, Woodmansee wouldn't budge. Police held him overnight. Strickland went home that night knowing his hunch was correct.
The next morning, he approached South Kingstown Police Chief Vincent Vespia: Let me have another crack at him.
Back in the interrogation room, Strickland remained calm.
"You've known me for many years, Michael," he recalls saying. "And I think you have something that's been bothering you for many years. I know you're scared, but we're going to protect you, no one's going to hurt you. We're the police and we have to protect you."
Woodmansee broke down and admitted he had killed Jason Foreman all those years earlier.
Strickland told him: You know, Michael, we're going to search your house. Is there anything there we should know about?
Woodmansee said the police would find a journal. But he was emphatic: Everything in there is just fiction. He said it over and over. It's fiction.
Inside the house, the police did find a journal which, they said, detailed what Woodmansee had done to Jason.
They also found a box of bones on top of Woodmansee's bedroom dresser.
A state medical examiner said the box contained a small jaw, a skull, arm and leg bones, and a few spine and rib bones.
The most striking aspect of the bones, the doctor said, was that all traces of flesh appeared to have been purposely removed.
"To be crude," said Dr. Arthur C. Burns, "it's a matter of boiling them with lye, a weak lye-type solution and soap."
The mixture, he said "dissolves the tissue and allows it to be taken off the bones very cleanly."
The bones had also been shellacked.
On Feb. 24, 1983, a trembling Woodmansee, having been found competent to stand trial, took the witness stand in Superior Court and admitted to a second-degree charge of murder.
Superior Court Judge Thomas H. Needham accepted the plea bargain that would spare the Foremans any further ordeal - including details of what the killer may have done - and said that the length of the sentence assured that justice had been done.
Needham ordered all evidence in the case sealed, including Woodmansee's written account. His journal has remained under lock and key with Vespia since then. Its contents, said Vespia, are "absolutely terrible."
But, citing Needham's order, Vespia would not discuss any details in the journal.
In 1997 when Woodmansee asked to see the Parole Board - - sparking community outrage and a petition signed by thousands of people to keep him behind bars - - Vespia said he had Needham's permission to divulge the journal's contents to the board, if needed, to persuade the members to keep Woodmansee locked up. But Woodmansee eventually withdrew his request.
"This is one of the worst cases I've ever seen and I've been around the block a few times," the 72-year-old Vespia said last week. "He deserves to be incarcerated for life as a guarantee that our citizens do not experience this kind of animalistic behavior again.
"I think he lost his right [to freedom] the day he killed Jason Foreman."
Last Tuesday, Rhode Island sheriffs drove to a medium-security prison in Gardner, Mass., to retrieve Woodmansee, who now, at 52, has served virtually all his sentence out of state for his own safety.
Balding, and wearing large-framed glasses and a trim moustache, the 6-foot-tall, 288-pound Woodmansee stepped onto the grounds of the Adult Correctional Institutions in Cranston around 12:30 p.m., his first step toward freedom.
Woodmansee is currently scheduled to be released sometime in August. But prison officials say they wanted to bring him back to Rhode Island months earlier to start preparing him for transition back into society. The process will include a mental health evaluation.
"His release date is approaching," said corrections department spokeswoman Tracey Zeckhausen. "Having him here will allow us to develop a discharge plan."
Woodmansee, through Zeckhausen, declined to talk to a reporter about his case.
For those who know the story of what happened on Schaeffer Street, the "Watch for Children" sign at the base of the hill can be haunting.
Sharon Carney, who had lived next door to the Woodmansee house when Jason vanished, and still does, gasped - - "Oh God" - - when told about Woodmansee's scheduled release.
"I thought he was in prison for life," she said. "Wasn't he found incompetent? Is he well enough to get out? He wasn't all there, then."
Over the years many neighbors have moved away, said Carney. Among those who remain, what happened in the house next door to hers is "something we don't ever talk about.
"Too gruesome."
Woodmansee was being held in the ACI's high-security facility Thursday morning as John Foreman, Jason's father, was on his hands and knees in the family's appliance store, clipping wires in the back of a dishwasher.
His other son, John Foreman V, who now owns the shop two miles from Schaeffer Street, stood above him, holding a cup of coffee.
At a reporter's mention of Woodmansee's name, the younger Foreman pointed his coffee cup down at his father.
The elder Foreman paused and steadied his hands on the floor. Then he began a slow shake of his head before he picked up the wire cutters again.
He would not say a word.
Over the years it had always been Joice Foreman, Jason's mother, who spoke about their unspeakable sorrow.
A few hours later, though, John Foreman took a walk to his truck in the parking lot, carrying with him a cell phone and a few scribbled thoughts that tried to put into words the emotions brewing within him.
He dialed the reporter's phone number.
He did have something to say.
"Over the years," he said, starting to read, "I have blocked out all memories of what happened to Jason Douglas - that was his middle name. The tragic end to his life is too painful to think about.
"I have been able to visit Jason and his mother, Joice, at their gravesite with only love in my heart for them. But now I'm afraid to visit, now that the terrible memories are back to haunt me and my family. There is no forgiveness in me, only revenge."
He said he expected Woodmansee to serve all 40 years of his sentence "because of the way he did kill Jason. It's one thing to kill somebody, but to kill him that way ... "
John Foreman didn't expect to feel this way so soon.