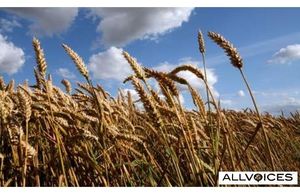 The UK is experiencing a hike in inflation. After quite a few years when inflation was under control, it is hitting everyone hard. Added to the expected increases, conflict in the middleeast looks set to push oil prices through the roof. This in turn increases the price of basic food stuffs further. With a coalition government determined to reduce the country's debts immediately, it looks like we are in for a bumpy ride.
The latest UK predictions, from a senior economist at the worldwide bank of HSBC, make for gloomy reading. In fact they indicate doom, as well as gloom.
As Karen Ward, the economist in question, has pointed out, peoples incomes in the UK are on a downward spiral. There will be few, if any, ordinary citizens who would disagree with that. Most public sector workers who usually receive an annual cost of living increase, however small, in their pay-packets will be disappointed this year. These increases have been frozen for the foreseeable future.
Benefit and welfare cuts are set to batter those already living on the breadline. If, this writer's prediction, that the minimum wage is to be scrapped comes true, many people will be struggling to make ends meet.
In the Northern city where I live poverty is already a way of life, for too many adults and children. Jobs are few are far between and young people face an uncertain future.
Imagining unrest and food riots on the streets of the UK may be hard for those living in other countries. For me it is not. The new generation of British people will not be as easily led as previous generations may have been.
Karen used some statistics to highlight the problem. Food prices are at their highest level for 21 years and have risen for the last 8 months consecutively. The price of wheat has doubled in 6 months, whilst sugar has increased by 14%, in 12 months.
The rises are blamed on many things including the current middle east unrest, oil prices and failing crops. However, for me it is worth noting that these 8 months have been the first 8 months of our "new" coalition government's time in office.
During my lifetime I have experienced particular food shortages. These have been insignificant really but are worth mentioning here. In the 70s a sugar shortage in the UK resulted in people stock piling sugar. Hubby and I choose to simply give up sugar. A potato shortage saw similar panic buying. What people forgot at the time is that we, the UK, had other options to buy and consume.
However, for many people, declaring a shortage causes panic buying. This adds to the problem, especially for those with not enough income to stock pile, even if they wanted to. This in turn could lead to just the sort of problems Karen Ward is predicting.
As an aging UK citizen I have to hope that the UK government heed the warnings and take what action it can.