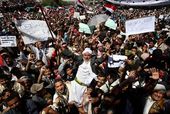 Sanaa, Yemen - Security forces opened fire on demonstrators taking part in protests throughout Yemen in what appears to be the biggest turnout in a month of unrest to demand regime change, eyewitnesses said.
In the southern port city of Aden, the witnesses say security forces shot at demonstrators trying rip down photographs of President Ali Abdullah Saleh. Six protesters were wounded, one seriously, one medic said.
Many demonstrators say their turnout of hundreds of thousands on Friday is to tell their leader of 32 years that they reject his latest compromise offer and want him to go.
Saleh proposed creating a new constitution guaranteeing the independence of parliament and the judiciary on Thursday night.
'We want him to go'
The protesters, marking what they called the "Friday of no return," gave short shrift to Saleh's offer.
"We don't want initiatives, we want him to go," said one demonstrator, Ali Abdulrahman.
"All of us tribes are here now to demand that this guy leaves," tribesman Mohammed Saleh added. "We're tired of him."
Thousands of women also participated in demonstrations in Yemen's conservative capital, Sanaa.
The wave of unrest, inspired partly by popular revolts in Egypt and Tunisia, has weakened Saleh's grip on his impoverished nation, a neighbor of oil giant Saudi Arabia and home to an agile and ambitious regional al-Qaida wing.
About 30 people have been killed since the protests began in January.
However, tens of thousands of Saleh loyalists also crammed Sanaa's Tahrir Square, touting pictures of the veteran leader.
"Your duty is to guard stability, I know many of you are suffering economic hardship, but we Muslims are different. Income comes from God and prayer," a preacher told them.
As Yemen's water and oil resources dry up, it has become increasingly difficult for Saleh, 68, to fuel the patronage system that kept his tribal and political supporters loyal.
In the central province of Maareb, residents said hundreds of Yemenis demonstrated because they had not been paid for attending Saleh's speech in Sanaa on Thursday.
The local newspaper
Maareb Press
said they been promised 50,000 Yemeni riyals ($233) and began shouting "the people demand the fall of the regime" when they did not get the money.
Protesters want an end to Saleh's autocratic system, in which his relatives and allies hold key posts. They also cite frustration with rampant corruption and soaring unemployment.
Some 40 percent of Yemen's 23 million people live on less than $2 a day and one-third face chronic hunger.
Reuters contributed to this report.