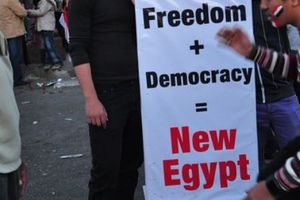 Egypt's embassy in Tel Aviv has been refusing to issue travel visas for Israeli applicants, who usually do not have trouble obtaining the permission.
The embassy has not explicitly declared any travel ban, but it is delaying their visa requests, Israel's commercial television outlet, Channel 2 reported on its website on Sunday.
Yossi Fattal, the director-general of the Israel Travel Agents Association said the Israelis are told to come back next week for processing of their applications and the postponements continue.
People, however, continue to transit between the two sides through the Taba crossing in the northeastern Egypt.
The development comes weeks after a popular revolution in Egypt, where people say they are tired of being ruled by US-backed a regime.
Egypt's former President Hosni Mubarak was forced to step down on February 11 as a result of the revolution.
Although Israeli officials tried to refrain from commenting on the Egyptian revolution, Tel Aviv made attempts to save the Mubarak regime in its final days.
It uselessly allowed Egyptian troops into the Sinai Peninsula, which is supposed to be demilitarized under a bilateral peace deal.
Moreover, relations between the former allies have been experiencing an unprecedented stress since the victory of the revolution.