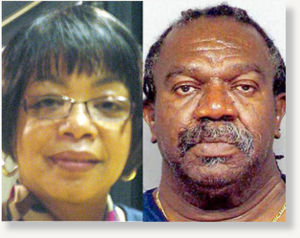 Both are ministers - he, a popular preacher, respected by his peers but bearing a violent past; she, a former schoolteacher with a taste for poetry.
They worked at the same church at some point and, according to police, were in a relationship.
It took a brutal turn Tuesday morning when, authorities and a witness say, the Rev. Edward Fairley stormed into an Eastside home and, without a word, stabbed the Rev. Simone Shields several times in the face and torso, leaving her to lie in a pool of blood on the kitchen floor.
Shields, 52, was eventually rescued by police and taken to St. Joseph's Regional Medical Center. She remains in critical but stable condition, police said.
Fairley, 59, was arrested after he was spotted on the street soaked in blood, the knife still in hand, authorities said. He is charged with attempted murder and was in Paterson police custody with no bail set as of late Wednesday, according to the Passaic County Jail.
The attack stunned the city's church leaders. Fellow pastors, who described Fairley as a good man and a "pillar" in the community, seemed at a loss.
"I don't know what the Lord wants us to look at with this situation," said the Rev. Chester Taylor, of Calvary Baptist Church.
But long before he started the Koinonia and Christian Ministries in Paterson 15 years ago, Fairley was convicted of committing a violent attack on his wife. In 1983, Fairley, then 32 and a Baptist minister, was indicted on charges of breaking into his estranged wife's Paterson apartment and stabbing her, according to an Associated Press article published in
The New York Times
on Dec. 1, 1983.
He served six years in state prison after being convicted of aggravated assault, kidnapping, armed burglary and weapons possession.
Fairley leads a sizable congregation at his church on East 36th Street that often runs food pantries and other charities, fellow pastors said. A gifted musician, the Paterson native also sang and played the organ at Bragg Funeral Home.
"I have a lot of respect for him," said the Rev. Stafford Miller, of St. Philip's Ministry.
On his ministry's website,
Fairley says he wanted to be a preacher since he was 5 but only reluctantly accepted his divine calling while serving in the U.S. Marine Corps.
"After much wrestling, praying and many sleepless nights, Pastor Fairley submitted his will to the perfect will of God," the site states.
He started the ministry in March 1996, eventually settling into a building on Rosa Parks Boulevard before moving to the bigger current location years later.
It's unclear when Fairley and Shields met and what the nature of their relationship was. He was married. She was not, though a former student said she was about to get engaged as of December. A profile on MySpace described her as an associate minister at Koinonia and Christian Ministries and an English teacher at Rosa Parks High School. She left the district as early as September 2009, a district official said and state records show.
Her former student, Mark Rivera, said Shields was studying religion at Princeton University. He called her a gentle but firm teacher who never "made us feel she was superior."
"Maybe because she was ordained, she could always sense when things weren't right with her students," said Rivera, 19 and now in college.
On Tuesday just after 10 a.m., Shields was at the 26th Street home of a friend, who is a beautician, getting her hair done when Fairley arrived. Fairley had called the friend earlier saying he was coming over to return some personal papers, said the woman, who asked not to be identified.
When Fairley showed up, he said little before attacking Shields in the kitchen with a knife he pulled from his pocket, the witness said. As the hairstylist called the police, the blood-soaked minister quietly left, she said.
"After he finished, he walked out calm as ever and starting walking up the street,
" she said.
Police arrested Fairley moments later.