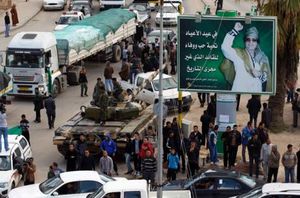 Clashes continue as forces loyal to Muammar Gaddafi fight to regain control over areas taken over by protesters.
Benghazi: The final figure of those killed in the ongoing clashes between forces loyal to the Gaddafi regime and pro-democracy protesters is 6,500,
Gulf News
has learned.
An informed source has told
Gulf News
that according to the transitional national council, the latest death toll in the clashes in country stands at 6,500.
Meanwhile, clashes continued across Libya on Tuesday as forces loyal to leader Muammar Gaddafi fought to regain control over areas taken over by protesters.
Witnesses from around 25km south of the capital Tripoli said tanks and anti-aircraft crews were deployed at all major intersections, activists reported in messages posted online.
Clashes continued in the western part of the country, as security forces tried to regain control of Zawiyah city.
The violence came one day after residents of Libya's third largest city, Misrata, said they had shot down an aircraft that was flying over the city.
Other witnesses said it was a helicopter and its crew were captured by anti-government protesters.
With inputs from agencies