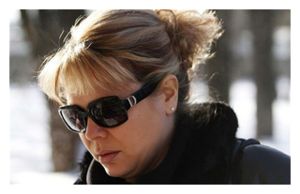 Colonel Muammar Gaddafi's personal nurse had her passport confiscated on returning to her native Ukraine on Sunday after allegedly verbally abusing fellow passengers and crew in a drunken rant.
Witnesses told the Ukrainian daily newspaper
Segodnya
that 38-year-old Galyna Kolotnytska was drunk when she got on the plane that took her from Tripoli to Kiev and needed help to stand on her own two feet.
She flew into a drunken rage, they added, when she realised that the plane was a military cargo plane and not a passenger liner.
"She began to shout the odds ... demanding the pilots' names and threatening to fire them. She was very aggressive and said that she was Gaddafi's woman and that he would not permit her to be insulted," one witness claimed.
"At one point they were even ready to tie her up and put her on the floor because she was not responding to reason," the witness added.
On arriving at Kiev's Borispol airport, officials apparently confiscated her passport though it was not clear whether this was a punishment for her behaviour or because of her status as Gaddafi's personal nurse.
Leaked diplomatic cables have shown that US diplomats believe she may have been the Libyan dictator's lover as well as his nurse though Miss Kolotnytska's family has denied that and also denied she was drunk and disorderly on the flight home.
Since returning to the small town outside Kiev where she lives, she has avoided any contact with the press, arguing she is upset and tired.