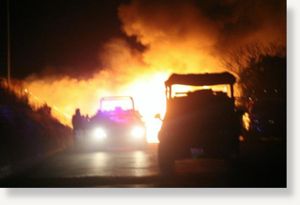 A two-month operation by U.S. authorities has led to the arrests of 678 gang members from 113 different gangs, including 13 linked to Mexican drug cartels, a top law enforcement official said Tuesday.
The U.S. Department of Homeland Security's Immigration and Customs Enforcement (ICE) teamed up with 170 law enforcement agencies around the country for operation "Southern Tempest" targeting violent gangs linked to international drug trafficking organizations.
Around two-thirds of those arrested are foreign nationals and nearly half have ties to drug trafficking groups, mainly in Mexico, ICE director John Morton told reporters.
"The purpose of this effort was to target violent street gangs associated with drug cartels, particularly in Mexico," Morton said.
The announcement of the wave of arrests came two weeks after ICE agent Jaime Zapata was shot dead while travelling in his car with another U.S. federal agent in Mexico.
Last week, the Mexican military arrested a suspect in Zapata's slaying, and days later detained the alleged shooter's boss, a member of the Zetas drug cartel.
The deadly shooting, the first death of a U.S. federal agent in Mexico in more than 25 years, has strained relations between the two neighbors.
But a day before Mexican President Felipe Calderon was due to visit the United States, Morton sought to smooth over the rough patches as he praised Mexican authorities for helping advance the Zapata investigation.
"There have been a number of very welcome arrests in Mexico and I am optimistic that, at the end of the day, with Mexico, the United States is going to be able to bring the long, hard arm of law and order down on the shooters," he said.
"We are working very closely with the Mexican authorities, who are leading the investigation in Mexico. This is part of our ongoing effort with Mexico to bring the cartels down, and we're going to stay on top of it," he said, refusing to go into more detail.
Nearly 35,000 people have been killed in rising drug-related violence in Mexico since December 2006, when Calderon deployed soldiers and federal police to take on organized crime.
Including "Southern Tempest," ICE says it reached an "important milestone of 20,000 arrests of gang members" since 2005, when the agency launched an initiative to disrupt street gangs involved in transnational crime including trafficking of drugs, weapons and people.
"Southern Tempest" arrests include Russian national Andrey Melnikov, who had ties to California's Valleros gang; New York resident Shawn Allison, a member of a Jamaican posse; and Rodimiro Burquez-Cortez of the Surenos gang and fellow Mexican Gustavo Morales, a 52-year-old tied to the Boomerangz gang in Pennsylvania, according to ICE.
Nearly 8,000 of the 20,000-plus gang members arrested since 2005 had violent criminal histories and 3,414 were members or associates of the MS-13, a gang with origins in El Salvador that is known for its brutality.
Source: Agence France-Presse