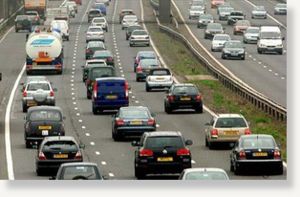 Speed limits on the motorway could be increased to 80mph in a bid to increase productivity, Philip Hammond, the transport secretary, has suggested.
Mr Hammond said that safety might no longer be the sole consideration in judging how fast cars can go and that gains to the economy from shorter journey times should also be taken into account.
Britain's maximum speed limit has been 70mph since 1965 and is lower than most in continental Europe.
Mr Hammond, who drives a Jaguar XJ saloon said: "We need to do this on a pretty rigorous cost-benefit basis. At the moment there are a clear set of criteria for making these decisions. Perhaps we ought to ask if we are using the right set of criteria."
There were 132 deaths on British motorways in 2009, the last year for which full figures are available. In France and Italy the maximum speed limit is 81mph. In Ireland, Spain and Portugal it is 75mph.
Mr Hammond has also signalled he will address the issue of fuel prices in next month's Budget.