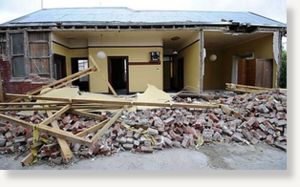 With nerves frayed by months of tremors that peaked in a horrifying earthquake this week, Christchurch residents are lashing out against those they need the most.
Police said domestic violence surged by 50 percent after a major tremor rocked New Zealand's second city last September, the prelude to Tuesday's quake that left at least 123 dead and destroyed parts of the city centre.
Just a day into the latest disaster, police commander Dave Cliff said authorities had seen another surge in family assaults, with many homeless or without power and water, and as some turned to alcohol to cope.
"The stress and trauma of Tuesday's earthquake is understandably taking its toll, and the continual aftershocks are exacerbating the tiredness and emotional fatigue," said Cliff.
"However family violence is not okay under any circumstances and it is important that situations are not allowed to escalate."
Many in Christchurch have been on edge since the September 4 quake which caused massive damage but no loss of life, with more than 5,000 aftershocks ravaging the city of 390,000 -- New Zealand's second largest.
There was a spike in suicides and stress-related conditions after the first quake, and David Meates, the region's health director, said Tuesday's disaster "has certainly got most people very, very fragile, very anxious".
"In these sorts of situations there are enormous pressures and strains on families, relationships, people's livelihoods are now at stake," Meates told AFP.
"Sometimes the way that it's expressed, people are a lot (closer to) their breaking point and sometimes some of the reactions can be quite out of character. Certainly domestic violence is something that becomes more obvious."
Already a major problem in New Zealand, with tens of thousands of incidents reported each year, one local study showed the incidence of domestic abuse could triple during natural disasters.
Massey University researcher Ros Houghton has found events such as floods and snowstorms significantly increased the intensity and frequency of abuse in rocky relationships.
"People lose a sense of stability and security and there's a kind of anger that comes and you don't know where to put it, you don't know where to direct it, and it's often that it gets directed inside and against those you love," said Peter Beck, dean of Christchurch's Anglican Cathedral.
"Already we have people who've been made redundant, so there's anxiety not only about your homes and your loved ones. Some people have already been getting this double-whammy of maybe losing their job."
Along with looting, drunken disorder was also on the rise, according to police. One in six New Zealand adults are estimated to have potentially dangerous drinking habits, according to the health department.
Officials had already been bracing for deeper traumas to emerge around June from the September quake, and Meates said they were now looking at a much more acute response compounded by the mass loss of life in the tight-knit community.
Red Cross officer David Neal said the disaster -- "the biggest we've dealt with in recent memory" -- would hit not only the people of Christchurch, but New Zealand as a nation.
"Everybody in New Zealand is hurting because of what's happened here in Christchurch," said Neil.
"I think it's going to be far-reaching and long lasting. This is something that everybody will have some sort of contact with, or some sort of knowledge of somebody that's been affected in some way right across the country."
Beck agrees.
"Nothing will be the same, nothing can be the same for any of us here after this. Our lives are changed because of this, of course they are," he said.
"But that doesn't mean as we move on that we don't grow from this. Out of this pain and out of this tragedy we will grow again.
"Life is stronger than death. Love is stronger than hate."