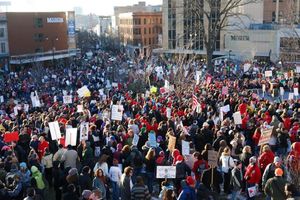 Tens of thousands of demonstrators converged on Wisconsin's state Capitol on Saturday to protest Republican Gov. Scott Walker's plan to curb public sector union power in order to balance the budget.
Waving hundreds of American flags and singing the national anthem, the demonstrators were peaceful and the swelling crowds upbeat despite a setback earlier in the week when the state Assembly approved the measure over Democratic objections.
What began two weeks ago as a Republican measure in one small U.S. state has turned into what could be the biggest challenge to union power since then President Ronald Reagan fired striking air traffic controllers nearly 30 years ago.
If Republicans prevail in Wisconsin, a number of other states governed by conservative majorities could follow. Already, other legislatures including Ohio, Indiana, Iowa, Idaho, Tennessee, and Kansas are working on union curbs.
Unlike previous protests, the rally on Saturday brought out thousands of union workers not directly affected by the bill, including the state's firefighters, exempted along with police from the Republican proposal. Dozens of private sector unions were represented as well.
'Walker Has Got To Go'
About 2,500 demonstrators, chanting "Hey hey, ho ho, Scott Walker has got to go," stood directly under the office window of the state's new governor, who introduced the controversial measure as part of a budget deficit cutting bill that is moving the Wisconsin legislature.
Scott Sumer, a teacher from Rockford, Illinois, just south of the Wisconsin state line, was among them. He said the swelling crowds were proof "the momentum is growing" and predicted the growing opposition here would give pause to lawmakers in other states considering similar measures.
"Other governors are going to see this and think, 'I don't want to go there.'" Sumer said. "The tenacity of this movement and civility here are impressive."
Madison police refused to say whether the number of protesters eclipsed the estimated crowd of more than 50,000 that gathered here one week ago. They would only say that they expected "a sizable crowd."
The stakes are high for labor because more than a third of public employees such as teachers, police and civil service workers belong to unions while only 6.9 percent of private sector workers are unionized. Unions are the biggest single source of funding for the Democratic party.
Two hours before the rally was officially supposed to start, about 5,000 protesters were in line to enter the Capitol, the building's capacity, and the wait to get in was at least two hours.
The street circling the Capitol, roughly a mile around, was choked with protesters, defying the frigid temperatures and steady snow that fell throughout the afternoon.
Saturday's rally had a festival or concert feel to it with a stage set up and some popular musicians expected to perform later in the day.
Some of the demonstrators carried signs, others pushed baby carriages, others walked with their dogs by their sides.
The overwhelming anti-Walker sentiment of the demonstration was telegraphed in many ways, including a sign that read: "Scott Walker for President ... of Libya."
U.S. labor groups also staged rallies across the country to show solidarity with Wisconsin in fighting the proposal they see as trying to break the union movement.
Better Weather
Wearing thick outerwear and her 10-month-old son strapped to her belly, Tamarine Cornelius, 36, carried a sign that read "If Wisconsin is gonna become Mississippi than I am gonna want better weather."
"I understand that there are tough times ahead, things are going to be difficult no matter what. I think most people understand that," said Cornelius, who works for the non-profit Wisconsin Council on Children and Families.
Inside the already crowded Capitol, Dave Higginbotham, 45, a county transportation worker in southern Wisconsin near the Illinois border, said curbs on union powers could make personal connections with the boss more important than job performance.
"To work in that type of environment, if you're someone that works hard and is concentrated on the taxpayers and what's important to them, becomes second nature and it gets frustrating, really frustrating," Higginbotham said.
The Saturday protests take place in a different context than previous rallies, after the controversial proposal passed the state Assembly on Friday, testing the resolve of a movement that has so far been remarkably peaceful.
Backers of the bill won a major victory early Friday with state Assembly approval of the union bill. The bill has now moved to the state Senate where it is stalled because the 14 Democrats fled to Illinois to deny a quorum for a vote.
People in the state capital of Madison, which is home to unionized state government agencies and the University of Wisconsin, are overwhelmingly opposed to the governor's plan. But Republicans said they believe there is a silent majority who voted Walker into office, and support the efforts.
Republicans appeared defiant in the face of the union protests. In Phoenix, where some 2,000 conservative "Tea Party" supporters were gathered, potential Republican presidential candidate Tim Pawlenty drew applause when he blasted President Barack Obama for supporting the Wisconsin unions.
"It says in the Constitution: 'In order to form a more perfect Union.' ... Mr. President, that does not mean coddling out of control public employee unions."
The Wisconsin changes sought by Walker would make state workers contribute more to health insurance and pensions, end government collection of union dues, let workers opt out of unions and require unions to hold recertification votes every year. Collective bargaining would be allowed only on wage increases up to the rate of inflation.
Source: Reuters. Reporting by James Kelleher, David Bailey and Stefanie Carano in Madison; Additional reporting by Christine Stebbins in Chicago and Jim Lekrone in Columbus, Editing by Greg McCune