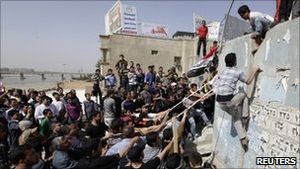 At least nine people have been killed in anti-government protests in Iraq as thousands take to the streets in cities across the country for a "day of rage".
Baghdad has been virtually locked down, with the authorities banning traffic in the city centre and deploying several thousand soldiers on the streets.
Still, several hundred people gathered in Baghdad's own Tahrir Square, calling for reform, but not regime change.
Mass demonstrations are also being held elsewhere in the Middle East.
In Libya, witnesses say government troops opened fire on protesters in Tripoli, as the authorities crack down on opposition protests - at least five deaths were reported
Yemen saw some of the largest marches yet by pro- and anti-government protesters in the capital Sanaa
Egyptians in their thousands returned to Cairo's Tahrir Square to mark two weeks since the ousting of Hosni Mubarak from the presidency and to press for reforms
Tens of thousands attended a day of mourning in Manama for those killed in recent unrest in Bahrain
More than 6,000 people have joined the largest protests yet in Amman, Jordan, calling for greater political rights and economic reforms
Demonstrations are expected to be held in the West Bank city of Ramallah
The protests follow a wave of Arab revolts that have toppled the presidents of Tunisia and Egypt, and challenged the rule of Col Muammar Gaddafi in Libya.
Lock down
Soldiers blocked every road leading into Baghdad to try to stop protesters from carrying out their planned day of rage, says the BBC's Jonathan Head in the Iraqi capital.
No vehicles were allowed into the city centre and thousands of riot police took up position in and around Baghdad Tahrir Square.
Protesters threw rocks and stones at riot police and tried to overturn concrete barriers blocking the Jumhuriyah bridge, near the square.
On Thursday, Prime Minister Nouri al-Maliki urged people not to join the protests for security reasons, and accused the protest organisers of being al-Qaeda insurgents and Saddam Hussein loyalists.
But several hundred people still braved the intimidating military presence to rally in the square, denouncing corruption and poor services, says our correspondent.
But the cry was for reform not revolution. The government was elected only a year ago and includes most of Iraq's main factions, he adds.
"We don't want to change the government, because we elected them, but we want them to get to work," the AFP news agency quoted one 24-year-old student as saying.
"We want them to enforce justice. We want them to fix the roads. We want them to fix the electricity. We want them to fix the water."
Another man told Reuters he had walked for two hours from the poorer district of Sadr City to attend.
"People are hungry. We ask the government to find job opportunities for the young. All my sons are unemployed, I'm here to express the injustice that we live in," he said.
The protesters also criticised the comparatively high salaries paid to MPs when many people are struggling to get by.
Violent clashes
Outside Baghdad, protests have been more violent and at least nine people have been killed.
In the northern city of Mosul, at least three people died and 15 were wounded in clashes, a police source said.
At least two others were killed and 22 injured in scuffles in the northern town of Hawija as protesters set fire to a local council building, according to a police source.
Other deaths were reported around the country as protests were held in Falluja, Kirkuk and other smaller cities.
About 4,000 people protested outside a governor's office in Iraq's second city of Basra, knocking over concrete barriers and demanding the lawmaker resign.
They are the latest in weeks of protest as Iraqis vent their frustration over poor living conditions, widespread corruption, and lack of jobs.