An archaeology enthusiast in Co Westmeath has unearthed human remains dating back more than 4,000 years in his back garden.
The National Museum of Ireland has described as "significant" the find by Pat Tiernan at Rickardstown, Collinstown.
Mr Tiernan had been excavating soil for the construction of a "lean-to", or shed, at the rear of his home when a spell of bad weather led to a small landslide.
"I looked out the window and saw bones protruding out the back and I saw the pot, and then I kind of knew what I was looking at," Mr Tiernan said.
"They looked too big for ordinary animal bones and too small for large animal bones. I kinda clicked it because I was used to looking at a bit of the Time Team."
After a visit to Newgrange, Mr Tiernan developed an interest in ancient Irish art and archaeology. He contacted specialists about the find.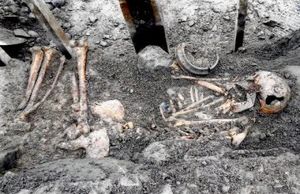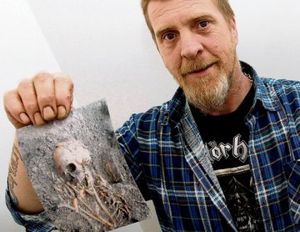 A team from the National Museum arrived at the house this week and removed the bones and pot. "They reckon it is between 4,000-4,500 years old," Mr Tiernan said.
Assistant keeper at the National Museum Pádraig Clancy attended the site along with the assistant keeper Dr Andy Halpin and the conservator, Carol Smith.
Mr Clancy said the gender of the remains had yet to be determined. "The very interesting thing about Rickardstown is a similar bowl was found by a Mr Thomas O'Farrell in the 1940s" at a quarry nearby, Mr Clancy added.
This find fits the Bronze Age burial tradition of often isolated burials. Three distinct areas of decoration had been identified on the bowl, he added.
According to Mr Clancy, the remains, which were buried in a slightly flexed crouch position, and the bowl could date from as far back as 2200 BC.
Thanking Mr Tiernan, he said: "We are very grateful to him. Due to his prompt recognition of it, it did save the bulk of the vessel. It did aid in the bowl being in the state that it is at the moment."
The remains will be analysed and preserved at the National Museum and Mr Tiernan and members of his family will be able to view them on request.