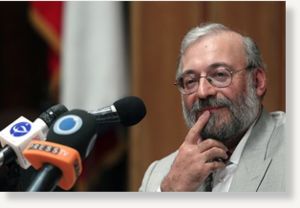 Secretary General of the High Council for Human Rights Mohammad-Javad Larijani has said senior Egyptian military commanders are under the influence of CIA and Mossad.
The Egyptian military officials do not dare to make any problem for the United States and this is why Washington insists on empowerment the Egyptian military, Larijani told IRIB Channel 2 Sunday night.
Larijani's remarks came following the downfall of the Egyptian dictator Hosni Mubarak on Friday.
After 18 days of protests and demonstrations by millions of Egyptians who called for the departure of Mubarak and the establishment of a democratic government, on Friday Mubarak decided to step aside and transfer power to the Supreme Council of the Egyptian Armed Forces.
"The U.S. scenario is to stabilize its power over the (Egyptian) military ...and create limited news coverage," the Berkeley-educated mathematician noted.
He went on to say that the West has been trying to censor news of Egypt so that the world does not get true information about the country.
The former deputy foreign minister added 90 percent of the video footages of the incidents in Egypt were different from realities, saying Mubarak would not have stepped down if what the footages showed were the realities.
Thus, all the incidents indicate that a great phenomenon occurred in Egypt which resulted in the downfall of Mubrark, he noted.
The academic said the movement of Egyptians should be pursued based on Islamic principles, anti-American and anti-Zionism.