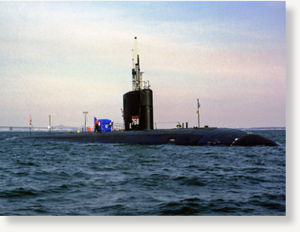 A junior officer at the Sub base in Groton has been granted an honorable discharge after suing the Navy, saying his Quaker beliefs keep him from participating in war.
In return, Michael Izbicki is dropping the federal lawsuit he filed last year, according to the ACLU. Izbicki filed the lawsuit last year after the Department of Defense twice rejected his discharge request.
A graduate of the Naval Academy in Annapolis, Maryland, Izbicki grew up near Camp Pendelton Marine Corps base in California, and followed a family tradition of military service. He said he realized his Quaker beliefs conflicted with his Navy service after his graduation and began submarine training. During a psych exam, he told doctors he could not launch a nuclear missle.
"Thorough a period of intense religious study and reflection, supported by military and civilian chaplains and his own rigorous reading and prayer, Ensign Izbicki concluded that he was a conscientious objector and had no choice, because of his religious beliefs, but to give up the career for which he had aspired and trained, and to seek honorable discharge from the Navy," the ACLU said in a November news release.
"I believe that Jesus Christ calls all men to love each other, under all circumstances," Izbicki wrote in his application for discharge. "I believe his teaching forbids the use of violence."
He's not getting out of the Navy scot-free. As part of his honorable discharge, Izbicki will have to reimburse the Navy for his education at the Naval Academy. Normally men and women attend the service academies free of charge.