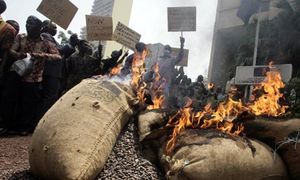 Banks with half of civil servants' accounts close down and cocoa farmers burn crop in protest against Laurent Gbagbo
Ivory Coast's largest bank has shut down, joining other international banks pulling out as the country faces an international embargo over incumbent president Laurent Gbagbo's refusal to concede that Alassane Ouattara won elections in November.
Hundreds of growers in what is the world's largest cocoa exporting country burned some sacks of their beans in symbolic protest, saying that the embargo was denying them their livelihood.
Together, the banks halting operations this week control more than half of Ivorian civil servants' accounts, and will prevent many receiving salaries. French bank Société Générale announced it was shutting its subsidiary SGBCI, after Britain's Standard Chartered, France's BNP-Paribas and America's Citibank said they were suspending operations, prompting lines of people outside branches trying to withdraw savings.
Gbgabo announced that the banks suspending their business would be nationalised. "President Laurent Gbagbo ... has made a decree that the Ivorian state take control, via a total and complete stakeholding in the capital of these banks," a statement issued after a cabinet meeting said.
Ouattara's victory has been endorsed by the United States, the former colonial power France, the European Union and the African Union. He is trapped in a hotel protected by UN peacekeepers, but he has called for a ban on cocoa exports to pressure Gbagbo to cede power.
Several hundred angry farmers went to the EU office in the capital, Abidjan, with a lorry loaded with five tonnes of cocoa, and spilled half a dozen sacks on the pavement before setting them on fire. "We aren't politicians, we're farmers," said Patrick Ayemou, a farmer from the Sud Comoé region. "We own this cocoa, and the EU shouldn't confuse politicians and farmers. Because of the EU's embargo we can't live off the fruits of our labour."
The EU has imposed a visa ban and financial sanctions on Gbagbo and dozens of members of his inner circle. It has also prohibited any European firm doing business with top officials and institutions accused of propping up Gbagbo's regime; shutting the banks is also designed to put pressure on the civil service to defect.
Ivory Coast's 2002-2003 civil war split the country into a rebel-controlled north and a loyalist south. While they officially reunited in a 2007 peace deal, Ouattara draws his support from the north while Gbagbo's base is in the south.