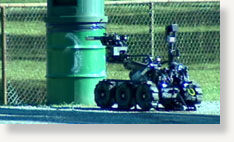 West Vancouver police are trying to determine who left a dangerous pipe bomb in a neighbourhood park on Saturday morning.
The device was found in Burley Park around 10 a.m. by resident Geoff Dunn, who noticed a suspicious package and called police.
"Black, plastic, PVC pipe capped off at both ends. Typical looking pipe bomb you see on TV or whatever," said Dunn.
Police closed off the small park, which is located just west of Taylor Way and south of the Upper Levels section of Highway 1. They also evacuated about 30 homes in the area and closed the eastbound lane of Highway 1 for about five blocks.
The RCMP explosives disposal unit was brought in to examine the bomb with a robot, and then blow it up using a controlled explosion.
Cpl. Fred Harding said investigators were then able to verify it was a real bomb and not a fake device.
"This was a weapon. It was designed to injure or maim. And we need to know more about who put this down," he said.
Harding said it's disturbing that someone would leave such a device armed in a small neighbourhood park, which has both a playground for children and tennis courts.
"It's disturbing. It doesn't matter where it's found. If someone lays down a device it's a disturbing act and we need to know who did it," said Harding.
Police are asking anyone with information to contact them.