The U2 frontman Bono has sparked anger in South Africa after an interview in which he appeared to suggest support for an anti-apartheid song that includes the line "shoot the Boer".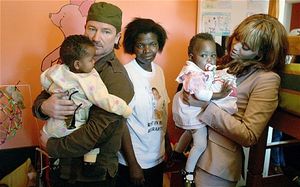 The Irish singer reportedly drew comparisons between the song and Irish republican songs, during an interview before a U2 concert in Johannesburg on Sunday night.
He was aware of the furor the song had caused, he reportedly told South Africa's
Sunday Times
newspaper, but added that protest songs were legitimate parts of political activism.
"I was a kid and I'd sing songs I remember my uncles singing ... rebel songs about the early days of the Irish Republican Army," he told the newspaper. "We sang this and it's fair to say it's folk music ... as this was the struggle of some people that sang it over some time."
The controversial South African song includes a line "shoot the Boer" or "shoot the farmer", and prompted sustained debate after the murder of Eugene Terreblanche, a white separatist leader allegedly hacked to death on his farm by two black employees.
Julius Malema, the head of the youth wing of South Africa's ruling African National Congress, was reprimanded last year for singing the song, which was an anti-apartheid anthem in the 1980s.
Activists for South Africa's white Afrikaner people have gone to court to argue that the lyrics should be classed as hate speech and banned from public broadcast. Bono agreed that such songs could be seen as incendiary and that there were "rules" about where they should be sung.
"Would you want to sing that in a certain community? It's pretty dumb," he said. "It's about where and when you sing those songs. There's a rule for that kind of music."
The story immediately reopened debate on South African social networks and radio talks shows.
Steve Hofmeyr, a popular Afrikaans musician, told his Twitter followers that he had thrown more than £400-worth of tickets for last night's concert into a Johannesburg river in protest.
"Anytime you mention this song, you are guaranteed to stir things up," said Sheldon Morais, an editor on Talk Radio 702, a Johannesburg station. "There was a lot of discussion about this, a lot of anger from call-ins. It has died down during the day, and I think people realised he was not endorsing Malema and this song, just talking about protest songs in general."
U2 are in South Africa as part of a world tour. A spokesman for Bono and the band insisted the singer's comments were quoted out of context. "If you read the actual transcript, it is clear that Bono's intention was not as has been reported," she said.
Bono and U2 were part of a collection of musicians including Keith Richards and Ron Wood from the Rolling Stones who formed Artists United Against Apartheid.
The song Silver and Gold, on U2's 1988 album
Rattle and Hum
, was written to boost the fight against apartheid.