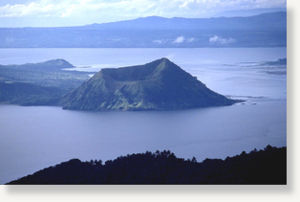 Taal Volcano in Batangas province showed renewed activity on Wednesday, with state volcanologists recording at least seven quakes in the last 24 hours.
In its Thursday report, the Philippine Institute of Volcanology and Seismology reiterated Taal's main crater remains off limits to the public.
"Alert Level 1 is still enforced over Taal Volcano. This means that a hazardous eruption is not imminent. However, the public is reminded that the main crater should be strictly off-limits due to sudden occurrence of steam explosions and accumulation of toxic gases," Phivolcs said on its website.
It added that the northern portion of the main crater rim, in the vicinity of Daang Kastila trail, may also be dangerous when increased steam emission is reactivated along existing fissures.
Phivolcs also reminded the public that the entire Volcano Island is a Permanent Danger Zone (PDZ), and permanent settlement in the island is strictly not recommended.
See the complete table on the Phivolcs
website
.
Mayon, Bulusan watch
Meanwhile, at least one volcanic quake was recorded at Mayon Volcano in Albay in the last 24 hours, with steaming activity from the crater moderate with white steam clouds drifting towards the northwest.
Phivolcs said a fair crater glow was observed at Intensity II, which can be seen by naked eye, Wednesday night.
It said Alert Level 1 is in effect over Mayon Volcano.
"While this means no eruption is imminent, it is recommended that the public should not enter the 6-kilometer radius Permanent Danger Zone (PDZ) due to the continuing threat from sudden small explosions and rockfalls from the upper and middle slopes of the volcano. Active river channels and those perennially identified as lahar prone areas in the southern sector should also be avoided especially during bad weather conditions or when there is heavy and prolonged rainfall," it said.
On the other hand, Phivolcs said no volcanic quake was recorded at Bulusan Volcano in Sorsogon in the last 24 hours.
But Phivolcs said Bulusan's remains at Alert Level 1, and reminded the public not to enter the 4-km permanent danger zone.
"Due to the prevailing wind direction, residents in the northwest and southwest sectors of the volcano are reminded to take precautions against ashfalls," it said.