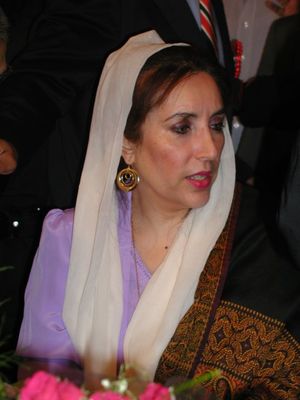 Former president under scrutiny over assassination of ex-Prime Minister Benazir Bhutto
Islamabad - A Pakistani court issued an arrest warrant for ousted military leader Pervez Musharraf on Saturday over allegations he played a role in the 2007 assassination of an ex-prime minister and rival. It was a major setback for the onetime U.S. ally, who was plotting a political comeback from outside the country.
Musharraf, who has not been charged, described accusations that he had a hand in the attack on ex-Prime Minister Benazir Bhutto as a smear campaign by a government led by her aggrieved husband.
The stunning allegation that Musharraf - a self-declared opponent of Islamic militancy - was linked to extremists accused in the attack was likely to keep him out of Pakistan, at least in the short term.
His possible arrest abroad did not appear imminent, but Pakistan's information minister, Firdous Ashiq, Awan said the government will contact Interpol about seeking Musharraf's detention if the court requests it.
Musharraf's spokesman said the former leader was in Dubai, with no plans to go to Pakistan. Speaking from London, where Musharraf has lived in self-imposed exile, Fawad Chaudri quoted him as saying that the accusations were "absurd and ridiculous."
Musharraf left Pakistan for Britain in 2008 after being forced out of the presidency he secured in a 1999 military coup. Though Musharraf does not have a large support base in Pakistan, he has vowed to return to lead a new political party.
Musharraf blamed Pakistani Taliban
Bhutto was killed Dec. 27, 2007, in a gun and suicide bomb attack after returning to Pakistan to campaign in elections Musharraf reluctantly allowed. Musharraf blamed the Pakistani Taliban for the attack, but government prosecutors now say he was part of the plot.
"A joint investigation team, in its report to the court, has found Musharraf guilty of being involved in the conspiracy" to kill Bhutto, said Zulfikar Ali Chaudhry, the lead prosecutor.
He said evidence that Musharraf was "completely involved" has come from the Pakistani Taliban, and that prosecutors are seeking a murder trial.
Chaudhry did not elaborate, but the new accusations and arrest warrant stem from a case against two security officials accused of not adequately protecting Bhutto.
Musharraf has always denied any role in Bhutto's death and scoffed at critics who said he did not do enough to protect her. The Pakistani Taliban also denied targeting Bhutto.
Musharraf's lawyer said his client was innocent but had no plans to contest the allegations in court, where he's been ordered to appear Feb. 19.
"This is just a drama. It is all politics," Mohammad Ali Saif said.
Musharraf has not been indicted. The court is conducting preliminary hearings about the accusations, and prosecutors say Musharraf will have an opportunity to defend himself.
A U.N. investigation into the assassination said Musharraf's government didn't do enough to ensure Bhutto's security and that a sloppy investigation may have erased or missed evidence. The U.N. was not tasked with finding out who was behind the killing.
After her death, Bhutto's Pakistan People's Party rode a wave of public sympathy to garner the most seats in 2008 elections. It then forced Musharraf to step down by threatening impeachment. He left for London, and has spent a good deal of time on the lecture circuit, including in the United States.
Analysts say Musharraf's plans of re-entering politics would be unlikely to succeed, but the arrest warrant gives a government accused of ineffectiveness the ability to show movement on the long-delayed investigation.
"They have not been able to find out who the real culprits are despite the fact that this has been going on for three years," said retired Pakistani Gen. Talat Masood.
Masood said that unless the evidence is particularly substantial, it will be difficult to get Musharraf back for a trial.
Britain does not have an extradition treaty with Pakistan, but the British government can decide to extradite suspects on a case-by-case basis.
Washington backed Musharraf for much of his military rule because he was, at least officially, a close ally in its fight against militants, including those who used Pakistan's soil as a hideout to prepare attacks in neighboring Afghanistan.
But many in Pakistan resented his alliance with the U.S., and his domestic missteps, including attempts to fire the chief justice of the Supreme Court, hurt his popularity, leading to mass protests that ultimately forced Musharraf to bend and allow fresh elections.
The new Pakistani president and head of the ruling People's Party is Asif Ali Zardari, Bhutto's widower. He also supports the U.S. and has backed offensives against militants on Pakistani territory.