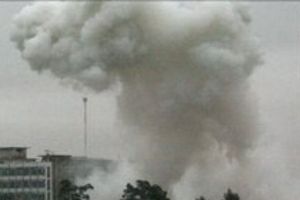 At least 16 people have lost their lives and several others have been wounded in a series of attacks in the troubled southern Afghanistan.
Afghan officials say 15 of the victims are police officers as the attacks mainly targeted the police headquarters. Forty-five people have been injured in the attacks.
One intelligence agent is also reported to have been killed in Kandahar Province.
The provincial governor says a number of militants armed with guns and grenades were involved in the attacks.
The Taliban have claimed responsibility for the attack.
Violence has been at its worst in Afghanistan since the US-led invasion in 2001.
The Afghan interior ministry has declared 2010 the deadliest year for civilians since the US-led invasion of the country in 2001. The ministry's spokesman said more than 2,000 civilians lost their lives in violence across Afghanistan.
Afghans also blame foreign troops and their military operations for civilian deaths. The rising number of civilian casualties has increased anti-US sentiments in the troubled region.
The invasion of Afghanistan took place with the official objective of curbing militancy and bringing peace and stability to the country. Nine years on, however, Afghanistan remains unstable and civilians continue to pay the price.
Over 150,000 foreign troops are currently stationed in Afghanistan.