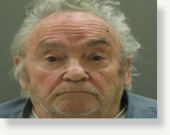 New Castle County Police have charged at 79-year-old man with sexually abusing a 7-year-old.
Frank Williams of New Castle was arrested Friday and charged with sexual abuse of a child and continuous sexual abuse of a child. He is being held on $300,000 cash bail.
Police were called to Christiana Hospital for a report of a sexual assault. Officers say Williams had sexual relations with the child several times during the past year.