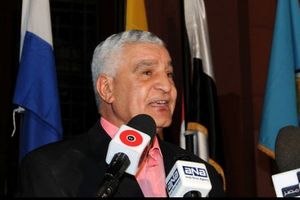 The Secretary General of Egypt's Supreme Council of Antiquities, Dr. Zahi Hawass, has been appointed as the country's Minister of Antiquities.
The world-renowned archeologist was announced as the head of the newly created department on January 31st, 2011,
Past Horizons
reported.
The department will absorb the Supreme Council of Antiquities and will be responsible for protecting and preserving all Egyptian monuments and museums.
"Egypt has 5,000 years of civilization and we love our heritage," Hawass said in a statement on Tuesday February 1, 2011.
Millions of protesters across Egypt have defied army orders to return to their homes as rallies against President Hosni Mubarak and his governments continue for the ninth day.
Inspired by the recent popular revolution in Tunisia, which resulted in the historic overthrow of Zine El Abidin Ben Ali, Egyptians have staged similar anti-government protests since January 24, 2011, calling on Mubarak to step down from power after three decades in office.
Two Pharaonic mummies were destroyed during the protests last week when protesters set the headquarters of the ruling National Democratic Party (NDP) on fire.
There have been some other damages and lootings in other sites but the military and locals are now protecting their cultural heritage.
"Sites around Alexandria were robbed, but the military is now protecting them all," Hawass wrote in his statement, adding that "the site of San el-Hagar in the Delta, where important 21st and 22nd Dynasty tombs are located, is being protected by the local Egyptians."
The statement also says that although seventy objects have been broken at the Egyptian Museum in Cairo during an attack by looters, the items can all be restored and the restoration process will soon start.
Among the broken pieces was a statue of Tutankhamun on a panther.
"The twenty-four museums of Egypt, including the Coptic and Islamic museums are all safe as well...[and] I am very happy to see that the Egyptian people, young and old, stood as one person ... to protect monuments all over the country," he added.
Hawass will be faced with several damaged and looted sites across Egypt if the cabinet survives the current turmoil.
It will also be more difficult for Hawass to retrieve his country's relics from international museums and art centers since it was revealed last week that none of the Egyptian Museums had any insurance.
Hawass started to recover Egyptian antiquities since he took the helm of Egypt's Supreme Council of Antiquities in 2002.
The bust of Queen Nefertiti in Berlin's Neues Museum and the Rosetta stone at London's British Museum have been among his top priorities.
Egypt even suspended its cooperation with the Louvre in 2009, after the Paris museum refused to return what the country charged were stolen artifacts.