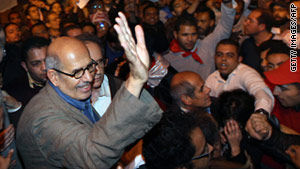 Egyptian opposition leader Mohamed ElBaradei addressed crowds of protesters in Cairo's Tahrir Square Sunday, an appearance that signaled a defiant gesture against the current government and military curfew.
Wading through demonstrators shouting, "we want honor for Egypt," ElBaradei, who is positioning himself as President Hosni Mubarak's leading opposition figure, eventually made it to a podium after being carried by supporters, and he joined them in singing Egypt's national anthem.
"I came today to participate ... in the lives of Egyptians," he told cheering protesters. "Today I look into the eyes of each one of you and everyone is different. Today you are an Egyptian demanding your rights and freedom, and what we started can never be pushed back. As we said, we have one main demand: the end of the regime and to start a new phase."
Earlier Sunday, ElBaradei said Mubarak must step down in order to save the country.
"If he wants to save his skin, if he has an iota of patriotism, I would advise him to leave today and save the country," he told CNN's
Fareed Zakaria GPS
.
The opposition leader said he had been given a mandate to build a unity government.
"What I have been authorized -- mandated -- by the people who organized these demonstrations (is) to agree on a national unity government," he told Zakaria.
Egypt is entering a period of transition, and a government of national unity is needed to fill the void and hold "fair and free" elections, ElBaradei said.
He did not rule out the possibility of serving as president or interim president if Mubarak were to step down.
"If my people here, the Egyptian people want me to serve as a bridge from authoritarian system into a democracy, I will not let them down," he said.
An eyewitness described ElBaradei's arrival at Tahrir Square as "chaotic," and it was unclear whether some members of the army were showing allegiance with the incumbent government or protesters. Some tanks had "Out with Mubarak" spray-painted on the sides and some soldiers waved the Egyptian flag, according to the same eyewitness.
Mubarak continued to cling to power, though he has sacked his government and appointed a new vice president and prime minister.
"I think this is a hopeless, desperate attempt by Mubarak to stay in power," said ElBaradei. "I think it is loud and clear from everybody in Egypt that Mubarak has to leave today, and it is non-negotiable for every Egyptian."
A transitional government is needed to move the country from dictatorship to democracy, he said.
"Egypt needs to catch up with the rest of the world. We need to be free, democratic and a society where people have the right to live in freedom and dignity," ElBaradei said.