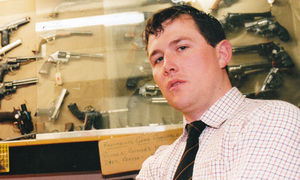 US court papers allege that three directors of UK firms tried to break embargo by selling thousands of Chinese assault rifle parts
The shadowy world of Britain's arms dealers has been thrust into the spotlight after the directors of two companies based in York and Kent were charged with conspiring to illegally export to the US hundreds of thousands of rounds of ammunition for AK-47 assault rifles in breach of an American embargo.
Court documents filed in the US claim that British businessman Gary Hyde and his associate Karl Kleber fraudulently imported more than 5,000 Chinese-produced AK-47 drum magazines into the US from the UK via Germany.
The alleged deal backfired, however, after US agents received a tip-off that the drums, each of which holds 75 rounds, had come from China, the subject of a US import ban on weapons.
The complex nature of the alleged deal, made via a multitude of companies based in several countries, provides a rare insight into the byzantine world of international arms brokers, which critics maintain is insufficiently monitored by western governments. "It's a deeply alarming case that demonstrates yet again why arms brokering, small arms and ammunition trafficking must be at the heart of efforts to secure a new global arms trade treaty," said Oliver Sprague, UK arms programme director at Amnesty International.
It is alleged that the drum magazines were originally intended for a US company, General Defence Corporation. GDC, in turn, was supposed to supply the magazines as part of a major consignment of weapons to Taos Industries, an Alabama company that equips US forces in Iraq.
The Taos consignment was ultimately believed to be for distribution among Iraq's security forces, but after it was delivered concerns were raised that many of the guns had gone missing, fuelling fears that large numbers had ended up in the hands of anti-US insurgents or had been sold on to militias in other countries.
Mil-Tec Marketing, run by a businessman called Paul Restorick and based in Ashford, Kent, had agreed a contract with GDC to supply the AK-47 magazines. Restorick, in turn, sourced them from Kleber, who had them shipped from China to Manchester on behalf of Hyde's York-based company, Jago Ltd, according to court documents. These state: "The investigation has revealed that Paul Restorick instructed Karl Kleber and Gary Hyde to conceal the country of origin of the drum magazines and to place false markings on them."
But the documents reveal that GDC suspected that the magazines had come from China and rejected them, sourcing them elsewhere. Kleber and Hyde allegedly then tried to sell the magazines to another US firm, claiming they came from Bulgaria and were not in breach of the embargo.
US special agents, however, procured papers suggesting that the claims were bogus. The American agents had also tapped Kleber's phone, recording more than 21,000 calls from June 2008 to March 2009.
The documents reveal that the US investigation started after it emerged that several other companies linked to Hyde and Kleber had allegedly facilitated the shipment of weapons from the former Yugoslavia to Iraq in an apparent breach of their licences.
In 2006 a company working on behalf of York Guns, another of Hyde's arms companies, imported more than 22,000 AK-47 assault rifles and 2,000 light machine guns into the UK. The revelation prompted concerns about the ultimate destination of the weapons. Restorick has admitted supplying arms to Rwanda before the May 1994 UN embargo that was imposed amid the genocide, but denied allegations that he continued to supply weapons afterwards.
There have been repeated calls for greater regulation of the UK's small arms brokers, but campaigners claim little has been achieved.
"This affair concerns individuals who were involved in a wider network of arms deals that could have seen tens of thousands of weapons flooding into Iraq with seemingly no controls or accountability," Sprague said. "Next month governments are set to meet in New York to continue thrashing out the detail of a new treaty. It's vital that we get a treaty that will prevent weapons ending up in the hands of criminal gangs and human rights abusers."
It is believed that Hyde is in the US, having been released on bail from a Nevada prison after he was arrested at a Las Vegas gun show earlier this year.
A spokeswoman for York Guns said she did not know Hyde's whereabouts but that the company would continue to run without him. Restorick's where-abouts are unknown.