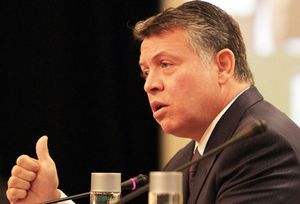 Unrest ripping across the Arab world is putting pressure on Jordan's King Abdullah II, a key U.S. ally who has been making promises of reform in recent days in an apparent attempt to quell domestic discontent over economic degradation and lack of political freedoms.
After two weeks of widespread protests inspired by the revolt that overthrew Tunisia's autocratic president, Abdullah has promised reforms in meetings with members of parliament, former prime ministers, civil society institutions and even Jordan's largest opposition group, the fundamentalist Muslim Brotherhood Movement.
But his promises appear unlikely to quash the opposition's daring calls to elect their prime minister and Cabinet officials, traditionally appointed by the king.
The Muslim Brotherhood called for fresh demonstrations on Friday to press its demand for political and economic reforms.
"We will continue our protests until our demands are met," said Brotherhood spokesman Jamil Abu Bakr, referring to their calls for electing a prime minister and Cabinet officials; amending a controversial election law they claim had reduced votes in their favor; and implementing reforms that would eradicate corruption and introduce a transparent government policy.
Abdullah has been working to create a more open-market economy that would see a greater flow of foreign capital into a resource-barren country, heavily dependent on U.S. and other foreign aid and whose debt is estimated at $15 billion, about double the amount reported three years ago.
The economy saw a record deficit of $2 billion this year, inflation rising by 1.5 percent to 6.1 percent just last month and rampant unemployment and poverty - estimated at 12 and 25 percent respectively.
"The government buys cars and spends lavishly on its parties and travel, while many Jordanians are jobless or can barely put food on their tables to feed their hungry children," said civil servant Mahmoud Thiabat, 31, a father of three who earns $395 a month.
Such complaints mirror those that ultimately led to the downfall of Tunisian President Zine El Abidine Ben Ali, though as a monarch with deep support from the Bedouin-dominated military, Jordan's ruler is not seen as vulnerable as Tunisia's deposed leader.
Still, Prime Minister Samir Rifai announced a $550 million package of new subsidies in the last two weeks for fuel and staple products like rice, sugar, livestock and liquefied gas used for heating and cooking. It also includes a raise for civil servants and an increase in pensions for retired military and civilian personnel.
Parliament said it will be amending the elections law soon - a move seen as a concession to the Muslim opposition.
In a Wednesday meeting with the Senate, which he appoints, "Abdullah insisted on the need to move forward with clear and transparent programs of political and economic reform," the palace said. "The king underlined the need for senators and all officials to be in constant contact with the people in all provinces of the kingdom to hear their grievances and open a completely frank dialogue with them."
Abdullah met with the elected parliament speaker and the elected heads of parliamentary committees on Thursday, promising "transparency, frankness and dialogue on all domestic issues to strengthen citizen's confidence in their national institutions."
"There's a lot of talk in the society about issues like corruption, nepotism and favoritism, which must be debated and responded to," Abdullah added, according to a statement released by his press office.
He said while some of "issues are right, others are not. But citizens have the right to have a candid answer."
Labib Kamhawi, an independent analyst, said the king's pledges were "cosmetic" and that more needs to be done to improve the political and economic climate in Jordan.
"Authentic concessions must be made this time because people are fed up with cosmetic changes and empty promises," he said.
When Abdullah ascended to the throne in 1999, he said he envisioned Jordan as one day becoming a constitutional monarchy, similar to Britain.
He has vowed to press ahead with political reforms initiated by his late father, King Hussein, which saw the first parliamentary election in 1989 after a 22-year gap, the revival of a multiparty system and the suspension of martial law in effect since the 1948 Arab-Israeli war.
However, little has since come of these plans and he retains the power to appoint ministers, dismiss parliament and rule by decree.
"There must be real political reforms to allow the people to have a direct involvement in matters affecting their lives," said Hamza Mansour, the head of the Islamic Action Front, the Brotherhood's political arm.
Although laws were enacted to ensure greater press freedom, journalists are still prosecuted for expressing their opinion or for simply making comments considered defaming to the king and his royal household.
Women have made some gains on their rights, but not far enough. Abdullah has pressed for stiffer penalties for perpetrators of "honor killings" against their female relatives, but prosecutors often give lenient sentences.
Conservative Bedouin lawmakers have also adamantly opposed harsh penalties, saying they would encourage vice.
Still, human rights abuses in Jordan are far fewer than in Tunisia and Egypt. Although some critics of the king are prosecuted, they eventually are pardoned and some are even rewarded with government posts.
"Nobody wants to see a regime change in Jordan, like in Tunisia or Egypt," Kamhawi said. "But people here want to see accountability, transparency, an end to corruption in government circles and wider public freedoms and popular participation in the decision-making."