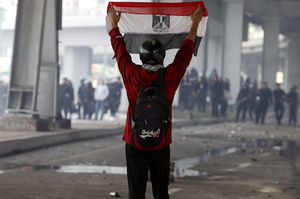 Senior official apparently cutting short defence talks as unrest sweeps his country.
The Pentagon has said that Lieutenant General Sami Enan, the Egyptian army's chief of staff, has departed Washington, cutting short a planned week-long visit as unrest sweeps his country.
The previously scheduled annual defence talks had been adjourned after "the Egyptian delegation was called home by its government," Colonel Dave Lapan, the Pentagon spokesman, said in a statement on Friday.
Sandy Vershbow, the assistant secretary of defence, led the US side for the talks and reiterated the Washington's appeal for restraint in dealing with widespread unrest, Lapan said.
"The current situation in Egypt arose very quickly, but Ambassador Vershbow did have the opportunity to urge restraint to his Egyptian counterpart during the Wednesday and Thursday meetings here in the Pentagon," he said.
Egypt receives about $1.3bn a year in US military aid and hundreds of millions of dollars in economic assistance - second only to Israel.
The country's armed forces - the world's 10th biggest with more than 468,000 members - have been at the heart of power since army officers staged an overthrow of the monarchy in 1952.
All four Egyptian presidents since then have come from the military, which is now led by Field Marshal Hussein Tantawi, 75, who is both defence minister and commander-in-chief.
Enan, in Washington, ranks below him but is one of the top military officers in Egypt.
A Middle East military expert in Washington, speaking on condition of anonymity, described Enan as someone who appeared to have the respect of the US.