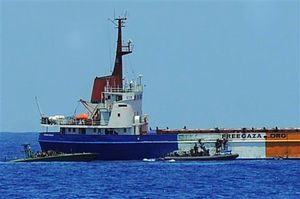 Irish activists planning to take part in a Gaza-bound aid flotilla due to set sail at the end of March have acquired a vessel that will carry 25 passengers, including several Irish politicians who have pledged their participation.
The boat, which is docked at a Mediterranean port, is wholly Irish owned, according to Dr Fintan Lane of the Free Gaza Movement and the Ireland-Palestine Solidarity Campaign.
Dr Lane sits on an international committee tasked with organising the flotilla, which is expected to begin its voyage on March 30th. Its members include US, Turkish, French, Spanish, Canadian, Swedish, Swiss and Malaysian nationals. The committee is due to meet in Madrid next month to finalise its plans.
Shane Dillon, who, along with Dr Lane was on board one of the vessels raided by Israeli commandos when a similar flotilla attempted to breach the Gaza blockade last May, will captain the Irish boat in the March flotilla.
Those who have said they will sail with the Irish activists include Fianna Fáil TD Chris Andrews and his party colleague Senator Mark Daly, Sinn Féin TD Aengus Ó Snodaigh, People Before Profit councillor Richard Boyd Barrett, and Sinn Féin councillor Gerry MacLochlainn from Derry. Artist Felim Egan has also signed up.
Activists from Turkish organisation IHH say the
Mavi Marmara
- the ship on which nine activists were killed during the raid last May - is likely to take part in the flotilla, along with two other ships. The flotilla is expected to comprise up to 15 vessels.
"Around 1,000 people from several different countries will be involved this time," said Dr Lane.
Organisers of the Irish boat have made a down payment of €25,000 towards the vessel, which cost €80,000. They hope to raise the balance through fundraising.
Meanwhile, Turkey has said it is "surprised, appalled and dismayed" by an Israeli inquiry report that cleared the military of any wrongdoing in the 2010 raid. Last year the UN Human Rights Council concluded Israel had used "an unacceptable level of brutality".