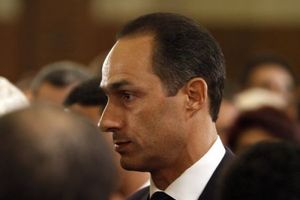 The Egyptian president's son has fled to Britain as thousands continue to protest across the country against Hosni Mubarak's decades-long rule.
Mubarak's son, who is considered his successor, left the country along with his family amid the anti-government protests across Egypt which are the largest since Mubarak took power three decades ago.
The plane with Jamal Mubarak, his wife and daughter on board left for London Tuesday from an airport in western Cairo, the US-based Arabic website, Akhbar al-Arab reported on Wednesday.
His departure comes as situation in Egypt remains tense with people pouring into the streets across the country to protest against Mubarak.
Heavily armed riot police have been deployed in major cities as the Egyptian government has banned any demonstrations, warning that protesters would be detained.
The opposition groups have called on people to take to the streets to continue anti-government protests.
At least four people, including a police officer, have already been killed in anti-government demonstrations across the country.