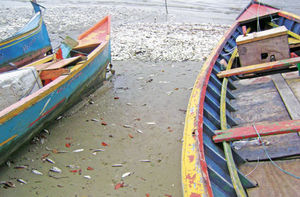 A survey conducted by the Federation of Fishermen's Colony of Paraná, Paranaguá on the coast of the state, indicates that at least 100 tons of fish
(sardine, croaker and catfish) have turned up dead since last Thursday off the coast of Parana.
On Sunday, representatives from the Environmental Institute of Paraná (IAP), the Secretary of State for the Environment and Water Resources (SEMA),
took samples to verify the reason for the deaths. The report will be released today.
The president of the Federation of Fishermen's Colony of Parana, Edmir Manoel Ferreira, reports that between Paranaguá and Guaraqueçaba at least 2,800 fishermen depend on the daily seafood.
"On Thursday we began to realize very dead fish. Only one community came to bury 15 tons. We are experiencing a very sad situation on the coast"
Apart from Paranagua, Ferreira said the dead fish are starting to appear in other coastal towns. "The dead fish are going to Antonina, and Guaraqueçaba Pontal do Paraná. We need an urgent solution to this," he warns.
Captain Edson Oliveira Avila, regional coordinator of Civil Defense in the Paraná region, believes there are three hypotheses for the death of fish. "We will wait to see what happened, but speculations suggest that fish may have died due to an environmental imbalance, dropping a fishing boat or leakage of chemicals," he says.
Through his press office, the city of Paranagua said the sale of seafood is a precaution, temporarily suspended in the region.
"It is not forbidden, but we have oriented people do not purchase or consume these products to avoid any problems. There is no indication that anyone has been ill, "said Avila.
The issue was discussed yesterday in a meeting involving the city of Paranaguá, IAP, Brazilian Institute of Environment and Natural Resources (IBAMA) and the Civil Defense of Parana.
Reportedly, the IAP said it will only give a ruling today, after the result of the award. The samples were sent to the Centre for Marine Studies (CEM), Universidade Federal do Paraná (UFPR).
Income
The whole situation worries the fishing community of coastal Paraná. "I urge the authorities to look for these workers from the sea. Not just in Paranagua, but throughout our state. When a disaster such sufferers is the fisherman. We can not let that happen ", says Ferreira.