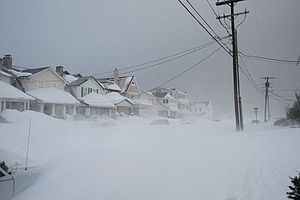 A powerful winter storm slammed the I-95 corridor from Philadelphia to Boston on Sunday. Through today, the blizzard will bring travel to a standstill along the coastline of northern New England as well.
The storm unleashed around a foot of snow and howling winds in cities and towns from Philadelphia through New York City to Boston as it advanced northward offshore Sunday and Sunday night.
So far New Jersey has been hit with the heaviest snow. As of the storm's conclusion, 31.0 inches of snow buried Jackson, and 31.8 inches of snow have fallen in Elizabeth. Unofficial snowfall measurements of 34 and 35 inches at Brick in the morning would be
a New Jersey state record
.
Weather Matrix founder Jesse Ferrell has the
latest on the amazing storm totals
in his blog.
The impending storm prompted the NFL to postpone Sunday night's matchup between the Eagles and Vikings in Philadelphia before the storm even arrived. Nearly a foot of snow piled up into the evening hours.
Meanwhile, the intense snowfall shut down New York's JFK and LaGuardia airports and Newark Liberty in New Jersey. The airports are expected to remain closed through 4 p.m. today.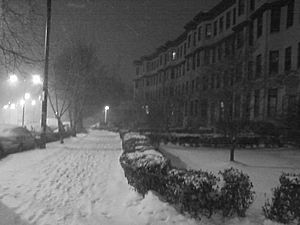 More than a thousand flights were cancelled throughout the Northeast as a result of the storm, creating travel nightmares for those trying to get home as the holiday weekend wrapped up. Amtrak has also suspended rail service between New York City and Boston.
Winds roaring past 60 mph in parts of Massachusetts also downed numerous trees and power lines. According the NSTAR, around 45,000 homes were left in the dark Sunday night.
Despite the snow tapering off in areas south of Boston today, travel will still remain difficult to impossible. Strong winds gusting past 40 mph at times will lead to blowing and drifting snow, hindering cleanup efforts.
Those that have to head back to work will face hazardous roads and limited mass transit. Blowing snow could also create whiteout conditions in spots.
Farther north, the fierce blizzard will continue pounding New England, including Providence, R.I., Boston and Portland and Bangor, Maine.