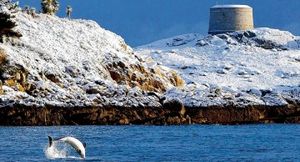 Record low November temperatures are set to be broken again today with very cold easterly winds and further heavy snowfalls. Met Éireann said that a wind chill factor would combine with heavy snowfalls of up to 25cm (10in) in east Leinster by tonight, making travel difficult and reducing temperatures.
Met Éireann said the wind chill "will make it very much colder than recent days" and added there was no sign of a thaw this side of the weekend.
Water authorities have warned of disruption to supplies which they say would "almost inevitably" follow the current cold spell.
Record low November temperatures were broken at weather stations in recent days, while Dublin airport recorded the lowest November temperatures since 1947 on Sunday.
The heaviest snowfalls today are expected to be in Wicklow, Dublin and Louth but snow is also expected to be heavy in Ulster, Connacht and, by tonight, in Waterford and the south coast. Scattered snow showers are predicted for the midlands.
The Government's emergency planning taskforce met yesterday to co-ordinate information on public transport and travel arrangements as well as efforts to keep key national and strategic routes open and clear city footpaths of ice.
Public transport providers, local authorities and the National Roads Authority are providing constantly updated information on the website www.transport.ie
The Army has also been deployed to bring hospice nurses to patients' homes and assist with the meals on wheels service.
Authorities appealed for householders not to leave taps running and to conserve water. Dún Laoghaire-Rathdown County Council said that arrangements were being made to cope with the expected disruption to the water supply, "which will almost inevitably follow the current cold spell".
Wicklow County Council urged consumers to conserve water, warning that if supplies are not conserved it may be necessary to restrict supplies at night.