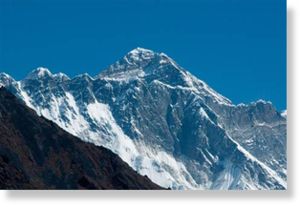 Helicopter rides back from Mount Everest after a week on the slopes of the world's tallest mountain might sound like a trekker's delight, but for the tourists trapped in the remote region of Nepal, the extended stay was not on the itinerary.
Around 2,000 foreign tourists and their porters have spent the past five days stuck in a tiny village 9,186 feet up the slopes of a hill near Everest due to bad weather, with Nepali army helicopters set to begin flying the stranded sightseers to safety on Friday.
They have been trapped in Lukla, the gateway to Mount Everest in east Nepal, after thick cloud and blustering winds forced airlines to cancel their flights to and from the remote region, officials said on Friday.
Tens of thousands of trekkers and climbers visit the Solukhumbu region in east Nepal, home to Mount Everest, every year.
Many start their trek from windswept Lukla village where a small airstrip is carved into the rugged mountainside.
Weather officials in Katmandu said the area had seen "low clouds and high winds" in the past three to five days, making flights by fixed-wing small airplanes difficult and risky.
"Flights by private helicopters are inadequate and their fares out of reach of common budget trekkers," Mahendra Singh Thapa, a senior official from the Trekking Agency Association of Nepal said in a statement.
Bikram Neupane, chief of the Himalayan Rescue Association of Nepal said all hikers were safe and not in danger.
"They are unable to get into their return flights to Katmandu because of bad weather," Neupane told Reuters.
The autumn season, which extends from September to November, is popular among Western trekkers in Nepal, which gets nearly four percent of its gross domestic product from tourism.