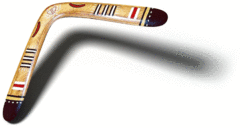 Relationships with a psychopath are usually like a boomerang. Even after you toss him as far away as possible, he may still swing back into your life. Years after they break up with a psychopath, women commonly report that they're still cyber-stalked or somehow harassed by him, or that he's still testing the waters to see if he can worm his way back into their lives. So the question is: Why is it so hard to get rid of a psychopath?
Psychopaths are hoarders of women, even those they tired of and tossed aside. They break up easily with their partners, of course. Psychopaths throw away old relationships with as little emotion or regret as normal people toss away their old shoes. But they rarely completely disappear from the radar, even years after the relationship with them is over. As they're pursuing their newest flames, psychopaths continue to keep tabs on their former girlfriends, sink their claws deeper into the current ones, put a few more women, which are on their way out, on the back-burner as they slowly simmer, wondering what they did to lose their attention and love. Hoarders accumulate junk; psychopaths accumulate broken relationships. Since possessing women (and men) reminds psychopaths of their dominance, the more ex-partners, current partners and potential future partners they can juggle, the more powerful they feel.
In her phenomenal study, Women who love psychopaths, Dr. Sandra L. Brown describes the relationship cycle of psychopaths, as they juggle multiple partners in their tireless pursuit of their top goals: pleasure, dominance and entertainment.
1.
The Pre-stage.
During the early phases, a psychopath trolls for potential partners everywhere: at work, at clubs and bars, on the internet, in the neighborhood, anywhere where he can meet sexual partners. Just because he has a wife, several girlfriends and a few casual relationships on the side doesn't mean the psychopath has stopped looking for other victims. Whatever his actual job may be, pursuing new and exciting partners (or "opportunities") is a psychopath's main occupation. He reads everyone's signal: from eye contact, attitude and what they verbally reveal about their lives. He zeroes in on those who express neediness, vulnerability, or just plain sexual willingness.
2.
The Early Stage.
A psychopath commonly has multiple email addresses (most of them using aliases), several cell phones, various means to juggle several partners and effectively hide that fact from his more "serious" pursuits. He tests the waters with dozens of people, but focuses his energies most on those partners whom he believes he can take to the next level.
3.
The Middle Stage.
He chooses to have full-blown relationships with multiple women and men (even psychopaths who claim to be straight commonly experiment with homosexual relationships, for variety). During this stage he woes more seriously the most promising targets: with romance, dinners out, exciting sex, loving words, etc. Many of these women believe they found their soul-mate in him, the love of their lives. But while wooing and duping them, the psychopath keeps very busy. He still maintains a firm hold on a few relationships he's thinking about ending; keeps an eye out for fresh prospects; plus has innumerable sexual encounters on the side. Because your typical psychopath juggles so many relationships simultaneously, even during the honeymoon period women start to experience some doubts. The psychopath may get calls from other girlfriends in the middle of their dates. He may be late to appointments or leave, inexplicably, for unaccounted periods of times. Usually, however, the wooing phase with a psychopath is so intense, fast-paced, sexually-charged, flattering and romantic that women don't stop to think about those red flags or prefer to accept the psychopath's rationalizations and lies.
4.
The End Stage
. Once the excitement of the honeymoon period and the novelty of the conquest is over, the psychopath usually no longer invests much time and energy into a given relationship. He usually ends several relationships at the same time, just as he pursues multiple new ones simultaneously. Relationships with a psychopath typically end when the initial excitement and fun diminish; when the woman begins to see cracks in his mask of sanity and their fantasy love; when the relationship becomes too high-maintenance and requires too much time and energy to sustain; or simply when he's found new relationships which are momentarily more exciting and entertaining. But, unfortunately, that doesn't mean that the psychopath moves on and out of your life forever!
5.
The Post++ Stage
. Because psychopaths can't relinquish power over anybody, they usually keep tabs on former girlfriends and periodically circle around them, like vultures, long after the relationships are dead. Even in the cases where they don't maintain physical contact, they may still send you nasty emails thinly disguised as spam or other unwanted communication. As Dr. Brown puts it, "Given both his boredom and excitement seeking, women must know that they, nor any other lover, ever really flies off his radar - for long."
This is why it's so hard to get rid of a psychopath, long after you leave him. Because he's egotistical and controlling, a psychopath can't get dumped by his girlfriends and move on, the way any normal, self-respecting man would. In fact, to maintain dominance, he usually lies to others about past relationships as easily as he deceives them about current ones. He may falsely claim that he initiated breakups or portray his ex-girlfriends as disturbed. The web of lies woven by the psychopath embraces everything and everyone in his life, past, present and future. And so the relationship cycle repeats itself, as the psychopath continually trolls for new partners, tires of current relationships, ends some of them, begins others, only to find his way back, like an unwanted boomerang, into his ex-girlfriends' lives.