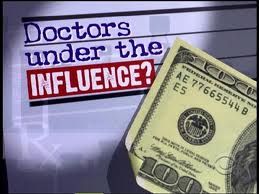 Doctors in the United States are still too cozy with drug companies, although they have managed to break some of those ties, U.S. researchers said on Monday.
The team at Harvard University and Massachusetts General Hospital did a national survey of 1,900 primary care doctors in 2009 about their contacts with drug companies.
They found 84 percent reported some type of relationship with drug companies, compared with 94 percent in 2004.
About two thirds accepted drug samples, 70 percent accepted food or beverages from drug companies and 14 percent accepted payment in exchange for their professional services, they reported in the
Archives of Internal Medicine
.
"We found a significant decline overall in the percentage of physicians who have relationships with industry," Eric Campbell of Massachusetts General, who led the study, said in a telephone interview.
In the team's first study of industry ties in 2004, getting drug samples or accepting lunches or other food from drug company salespeople were most common, followed by payments from drug companies for attending medical meetings or continuing education seminars.
Since then, several government and academic groups have pressured doctors to sever their ties to drug companies.
Members of Congress, including Senator Charles Grassley, an Iowa Republican, have been pushing to limit the influence of drug makers over the practice of medicine after a probe showed a noted Harvard neuroscientist had failed to disclose payments from drug companies.
The moves appear to have paid off, Campbell said. Doctors in the survey say they now have fewer meetings with drug company representatives, dropping from an average of three a month to two.
But Campbell said the numbers are still unacceptably high.
He said doctors continue to think they cannot be influenced by free drug samples or a fancy lunch - a notion he said defies basic social science.
"Cultures to the beginning of time have figured that gifts engender a positive response toward the giver. What's hysterical is the fact that physicians deny that these happen," said Campbell, who also teaches at Harvard Medical School.
"It's absolutely ludicrous to think that drug companies would spend all their time and money giving away this stuff if it didn't work."