Above, Tony Blair was pelted with eggs and shoes by anti-war protesters in Dublin last week.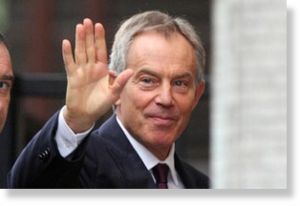 Former prime minister Tony Blair is considering cancelling a high-profile signing of his new memoir because of planned protests.
Mr Blair said he was concerned about the potential "hassle and cost" to the police of pressing ahead with Wednesday's event in central London.
Eggs and shoes were thrown by demonstrators at a previous signing in Dublin and anti-war groups have promised a mass protest outside the Waterstone's store in Piccadilly.
The ex-PM said it was "sad" that people wanted to disrupt such events
but indicated he may call it off amid evidence that other hostile groups were set to join in.
Speaking on ITV1's new
Daybreak
programme about his book -
A Journey
- he said: "To be frank about it, I am concerned. I do not want to put everyone through a lot of cost and hassle on this Wednesday's signing so I am thinking about that."
He said the Metropolitan Police were "fabulous and
they will do whatever we ask them to do"
but should not be asked to commit resources unnecessarily.
"The book is selling fantastically. There are people -
particularly now the BNP
apparently say they want to get in on the action - you end up just causing a lot of hassle for people and cost when there are better things for the police to do and it's not as if we need to do it.
"It is sad at the same time, frankly. If people want to have a book signed, people should protest but not try and physically prevent you doing it."
Blair was also forced to postpone his scheduled appearance at the prestigious Tate Gallery in London. His spokesperson said, "It has been postponed for the same reason as the book signing.
We don't want to put our guests through the unpleasant consequences of the actions of demonstrators."
Emin, Westwood and musician Brian Eno, were among figures from the arts world who wrote a letter to the Guardian newspaper on Wednesday to voice their concern about the Tate Modern event.
"It is disgraceful that the Tate is being used for this purpose," they said.