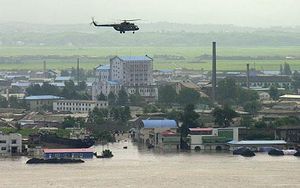 North Korea has been forced to deploy military units to rescue 5,000 people who were left stranded by a fresh wave of flooding along the impoverished state's border with China.
Pyongyang's official news agency said North Korean leader Kim Jong-il had dispatched the units to the city of Sinuiju, which had been inundated after the Yalu river overflowed.
The floods, caused by 11.8 inches of rain falling in nine hours on Saturday, have also forced the evacuation of 127,000 people on the Chinese side of the border in the port city of Dandong, the main gateway for North Korea's limited trade with the world.
Chinese weather forecasters were warning of a further 10 inches of rain to fall by this morning. On Sunday it was confirmed that four people had died in the flooding in China.
Pictures from the country showed people being airlifted by helicopter from the rooftops of damaged buildings as water swirled around them.
After decades of deforestation driven by a scarcity of raw materials, North Korea is highly vulnerable to flooding.
China has also suffered this year, with floods killing 3,900 people, including 1,434 in the northwestern province of Gansu on Aug 7 when rain caused a landslide that buried homes in the town of Zhouqu.