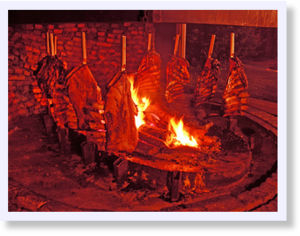 I've invited Dr. Michael Eades and Dr. Mary Dan Eades, two of my favorite bariatric (obesity treatment) doctors in the US and the first to introduce insulin resistance to the mainstream, to explain the facts and benefits of increased saturated fat intake...
Mid-Section Fat Loss: Problem Solved?
A couple of generations ago two physicians - one on the East Coast, one on the West - while working long hours with many patients, serendipitously stumbled onto a method to rapidly decrease fat around the mid-section. We're sure that other doctors figured out the same thing, but these two were locally famous and published their methods. Interestingly, neither was looking to help patients lose weight.
Blake Donaldson, M.D., who practiced in Manhattan, was looking for a treatment for allergies; Walter Voegtlin, M.D., a Seattle gastroenterologist, was trying to figure out a better method for treating his patients with Crohn's disease and ulcerative colitis. Dr. Donaldson got his inspiration from a meeting he had with the aforementioned Vilhalmur Stefansson; Dr. Voegtlin came up with the same idea based on his knowledge of comparative anatomy. Though they came at two different questions from very different angles, they arrived at the same dietary answer. Both solved the problems they were seeking to solve and, coincidentally, noticed that their overweight patients lost a tremendous amount of fat from their abdominal areas while undergoing the treatment. As happened later with us and with Dr. Atkins, word of their success in combating obesity spread rapidly, and before long both physicians were deluged with overweight patients seeking treatment, completely changing the character of their medical practices. In retirement, both wrote books about their methods. Donaldson's was published in 1961; Voegtlin's in 1972. And as far as we can tell, although their years of practice overlapped, they never knew one another.
What was their secret? What did these two men independently discover? What kind of nutritional regimen did they use to bring about such great results in their patients?
Both had their patients follow an all-meat diet.
An all-meat diet?
Yes, an all-meat diet. Remember that when these physicians were in practice, there hadn't been all the negative publicity about saturated fat and red meat that there has been in recent years. At that time, most people considered meat as simply another food, just like potatoes, bread, or anything else. No one worried about eating it. The (misguided) hypothesis that fat in the diet causes heart disease hadn't reared its ugly head, so telling people at that time to go on an all-meat diet didn't provoke the same sort of knee-jerk emotions that it does - at least in some quarters - now.
The patients who followed these all-meat diets rapidly lost weight from their midsections and improved their blood sugar and blood pressure problems if they had them. Calculations of cholesterol in all its various permutations was still decades away, but both doctors even used the all-meat diet for their patients with heart disease without problem. The all-meat diet proved to be a safe, filling, rapid way to help patients lose abdominal fat while improving their health. And remember, one of these diets was developed to treat GI problems, the other to treat allergies. The rapid weight loss that followed was a surprising, but welcome side effect.
7 Reasons to Eat More Saturated Fat
In the not-so-distant past, the medical establishment considered all fats equally loathsome: all fats were created equal and they're all bad for you. Things have changed in that quarter, if only slightly. You have no doubt heard the drumbeat of current medical thinking on fats: some fats are now good for you - olive oil and canola oil* - but others are bad for you - trans fats and all saturated fats.
That's an improvement from the old cry, but far from the truth.
It seems that no matter how the story spins from the denizens of the anti-fat camp, one piece of their advice remains staunchly constant: "You should sharply limit your intake of saturated fats." The next admonition will invariably be, "which have been proven to raise cholesterol and cause heart disease." Their over-arching belief is that saturated fat is bad, bad, bad.
You see with just a glance at [our suggested meal plans] that we've included fatty cuts of meat, chicken with the skin, bacon, eggs, butter, coconut oil, organic lard, and heavy cream in the plan. Aren't we worried that these foods will increase your risk of heart disease and raise your cholesterol?
In a word,
nope
. In fact, we encourage you to make these important fats a regular part of your healthy diet. Why? Because
humans need them
and here are just a few reasons why.
1) Improved cardiovascular risk factors
Though you may not have heard of it on the front pages of your local newspaper, online news source, or local television or radio news program, saturated fat plays a couple of key roles in cardiovascular health. The addition of saturated fat to the diet reduces the levels of a substance called lipoprotein (a) - pronounced "lipoprotein little a" and abbreviated Lp(a) - that correlates strongly with risk for heart disease. Currently there are no medications to lower this substance and the only dietary means of lowering Lp(a) is eating saturated fat. Bet you didn't hear that on the nightly news. Moreover, eating saturated (and other) fats also raises the level of HDL, the so-called good cholesterol. Lastly, research has shown that when women diet, those eating the greatest percentage of the total fat in their diets as saturated fat lose the most weight.
2) Stronger bones
In middle age, as bone mass begins to decline, an important goal (particularly for women) is to build strong bones. You can't turn on the television without being told you need calcium for your bones, but do you recall ever hearing that saturated fat is required for calcium to be effectively incorporated into bone? According to one of the foremost research experts in dietary fats and human health, Mary Enig, Ph.D., there's a case to be made for having as much as 50 percent of the fats in your diet as saturated fats for this reason. That's a far cry from the 7 to 10 percent suggested by mainstream institutions. If her reasoning is sound - and we believe it is - is it any wonder that the vast majority of women told to avoid saturated fat and to selectively use vegetable oils instead would begin to lose bone mass, develop osteoporosis, and get put on expensive prescription medications plus calcium to try to recover the loss in middle age?
3) Improved liver health
Adding saturated fat to the diet has been shown in medical research to encourage the liver cells to dump their fat content. Clearing fat from the liver is the critical first step to calling a halt to middle-body fat storage. Additionally, saturated fat has been shown to protect the liver from the toxic insults of alcohol and medications, including acetaminophen and other drugs commonly used for pain and arthritis, such as nonsteroidal anti-inflammatory drugs or NSAIDs, and even to reverse the damage once it has occurred. Since the liver is the lynchpin of a healthy metabolism, anything that is good for the liver is good for getting rid of fat in the middle. Polyunsaturated vegetable fats do not offer this protection.
4) Healthy lungs
For proper function, the airspaces of the lungs have to be coated with a thin layer of what's called lung surfactant. The fat content of lung surfactant is 100 percent saturated fatty acids. Replacement of these critical fats by other types of fat makes faulty surfactant and potentially causes breathing difficulties. Absence of the correct amount and composition of this material leads to collapse of the airspaces and respiratory distress. It's what's missing in the lungs of premature infants who develop the breathing disorder called infant respiratory distress syndrome. Some researchers feel that the wholesale substitution of partially hydrogenated (trans) fats for naturally saturated fats in commercially prepared foods may be playing a role in the rise of asthma among children. Fortunately, the heyday of trans fats is ending and their use is on the decline. Unfortunately, however, the unreasoning fear of saturated fat leads many people to replace trans fats with an overabundance of polyunsaturated vegetable oils, which may prove just as unhealthful.
5) Healthy brain
You will likely be astounded to learn that your brain is mainly made of fat and cholesterol. Though many people are now familiar with the importance of the highly unsaturated essential fatty acids found in cold-water fish (EPA and DHA) for normal brain and nerve function, the lion's share of the fatty acids in the brain are actually saturated. A diet that skimps on healthy saturated fats robs your brain of the raw materials it needs to function optimally.
6) Proper nerve signaling
Certain saturated fats, particularly those found in butter, lard, coconut oil, and palm oil, function directly as signaling messengers that influence the metabolism, including such critical jobs as the appropriate release of insulin. And just any old fat won't do. Without the correct signals to tell the organs and glands what to do, the job doesn't get done or gets done improperly.
7) Strong immune system
Saturated fats found in butter and coconut oil (myristic acid and lauric acid) play key roles in immune health. Loss of sufficient saturated fatty acids in the white blood cells hampers their ability to recognize and destroy foreign invaders, such as viruses, bacteria, and fungi. Human breast milk is quite rich in myristic and lauric acid, which have potent germ-killing ability. But the importance of the fats lives on beyond infancy; we need dietary replenishment of them throughout adulthood, middle age, and into seniority to keep the immune system vigilant against the development of cancerous cells as well as infectious invaders.
Footnotes
*We advocate the use of olive oil, but recommend against the use of canola oil, despite its widely perceived healthful reputation. In order to be fit for human consumption, rapeseed oil (which is canola oil) requires significant processing to remove its objectionable taste and smell. Processing damages the oil, creating trans fats. Also, the oil is sensitive to heat, so if used at all, it should never be used to fry foods.
The above post is an exclusive excerpt from Dr. Eades' newest book, which is directed at people who want to reduce abdominal fat. Despite the title, the principles it details are ideal for anyone who wants to decrease both visceral (internal) and subcutaneous (under the skin) fat in the abdomen.