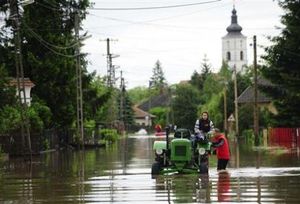 Over 2,000 people were forced from their homes in northern Hungary by Monday as flash floods triggered by heavy weekend rains blocked off villages and cut power in parts of the European country. Unusually bad weather, with heavy gusts of wind and two months' worth of rain in some areas, sent water levels surging to record highs on smaller rivers, forcing the evacuation of 2,093 people, news agency MTI reported.
"It's hard to predict when the situation will normalise because of the weather, we have not seen such floods in the valleys of the (rivers) Sajo and Hernad since 1974," said Csaba Csont, a spokesman for the water management authority in northern Hungary.
In Hungary's third-biggest city of Miskolc in the northeast, the mayor imposed emergency tap water restrictions and residents were building makeshift dams using logs, rocks and debris.
One man was killed in Miskolc Sunday when an earth wall collapsed over a house.