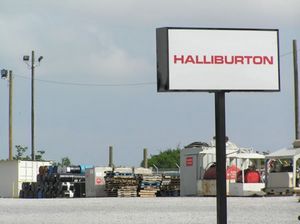 Reporting from New Orleans
It has been a day of finger-pointing at the first Senate hearing on what caused the
Deepwater Horizon
oil rig explosion. None of the men representing the three companies - BP, Transocean, and Halliburton - have wanted to admit total responsibility for what caused the accident on April 20, which resulted in 11 deaths, and in 4,000 square miles of oil contaminated water in the Gulf of Mexico.
Both Halliburton and Transocean were subcontracted by BP to work on the 5th generation oil rig. The rig was supposed to be one the most modern rigs ever built, defying ocean depths and debuting the rig's "dynamic" free-standing platforms. But the events that led to the April 20 explosion should have warned BP that its race to have the latest, rig technology could deliver, was going to go sour.
According to
an article
in the
Times Picayune
, a natural gas surge shut down the
Deepwater Horizon
rig just weeks before the April 20 explosion. BP engineers thought they had found a solution to the problem, but the oil rig eventually failed.
There are at least three investigations going on into what led to the rig's explosion - at the federal and state levels, and by an engineer named Roberta Bea of the University of California in Berkeley. Bea has been gathering statements from workers, engineers, records and everything else she can get her hands on to get a full picture of what led to the rig's doom.
But all of the investigations are at different stages and arriving to the final cause of the accident may still be months away. Engineers familiar with BP operations in the Gulf have placed calls to Louisiana's "news leader," WWL 870 AM, to share what they know with listeners. The consensus among callers has been that the culprits of the disaster were: a poorly done cement job, and poor placement of choke valves. The responsible party for carrying out the work? Halliburton. On Tuesday, BP and Transocean also re-enforced these claims at the Senate hearing.
Halliburton has been doing cement jobs at oil rigs in the Gulf for many years. Engineers and other oil rig workers in Louisiana have become very familiar with the way these rigs are built and also on how the drilling is done. For these people, the Houston-based company is more than a household name, it is an integrate part of how things are done around here.
Callers have been appalled that none of the valves placed by Halliburton to prevent out of control oil spills from a faulty blowout preventer (BOP), did not work. For its part, Halliburton has maintained that it did the contracting work as specified by BP; Transocean claims the same. BP is conducting its own investigation to defend itself.
One thing is for sure, and that is that with this oil spill many secrets that have been kept hush-hush on how these rigs are built in the Gulf, will finally come to light.
There many angry people in Louisiana, many disgruntled rig workers, and whistle-blowers that will reveal what they know in days to come to investigators. BP, Transocean and Halliburton would be better off banding together instead of pointing fingers at each other. If our justice system works, each of the companies will have to pay for cutting corners, violating safety standards, and for conspiracy.