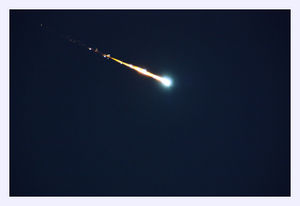 Reports are beginning to arrive about what sounds like a rather spectacular fireball meteor over Central Maryland just before dawn Monday morning. Not sure how many people would be outside to see this at such an hour, but let's see what other accounts might come in.
Here's what we have so far.
"I had a major meteorite sighting over Cockeysville at 0445 hrs this AM. Large green fireball with pieces breaking off and burning off. From the northwest to the southeast. Way cool- first one ever!" - John Selway, White Hall, Md.
"I was headed east on Rt. 23 (East West Highway) in Forest Hill this morning at about 4:40am. When I reached the intersection at Conowingo Road, I noticed an amazing bright streak of green light falling diagonally through the sky. I lost sight of it as it appeared to go behind the buildings at the intersection. I've never seen anything like it in my life. When I arrived at work, I immediately started searching on atmospheric sightings and came across your blog. Can a meteor have this type of color?" -Michele
Anyone else? Please leave a comment. It's important to include details about where you were, the time, the direction of the meteor's movement, its altitude above the horizon at the beginning and the end of the observation (in degrees, if possible; the horizon is zero, straight up is 90 degrees), its color and anything else you can remember. Also try to remember the duration of the event. Count "Mississippi 1, Mississippi 2, Mississippi 3" to estimate seconds).
Meteor scientists and meteorite hunters can use the information to calculate the meteor's direction, altitude, and the rough location of any parts of it that may have reached the surface.