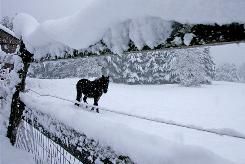 Montpelier, Vermont - A late-season snowstorm dumped up to 2 feet of heavy, wet snow on northern New York, Vermont and New Hampshire by Wednesday morning, cutting off power to thousands, closing some schools and leaving roads slippery.
"It definitely caught people off guard, considering we had 80 degrees back in March. It's a problem because some people swapped their (snow) tires out already," said Vermont highway dispatcher Greg Fox.
About 30,000 customers were without power in Vermont, New Hampshire and northern New York at 8:30 a.m. Wednesday. Utility officials said it could be Thursday before power is fully restored.
"We've been hammered all night," said New York State Police Trooper Eric LaValley of the Ray Brook barracks, in the Adirondack Mountains.
Large storms so late in the season are rare. On April 23, 1993, 22 inches of snow was reported in Malone, N.Y., and on April 27, 1874, 24 inches of snow was reported in Bellows Falls, Vt., said Mark Breen, the senior meteorologist at the Fairbanks Museum and Planetarium in St. Johnsbury.
"You really do have to stretch to find events like this,"
Breen said.
Many trees across the region have already started to bud, but temperatures didn't fall much below freezing.
"The green part isn't a problem. Snow is basically protecting leaves from temperatures getting colder," Breen said.
Instead, the danger to the trees comes because the leaves gives the snow more surface area to cling to, making them more susceptible to breaking under the weight of the snow.
Snowfall records were set Tuesday and Wednesday at the Burlington International Airport, the National Weather Service said. Tuesday's 2.8 inches at the airport eclipsed the record of 1.3 inches set on the date in 1946, and by 7 a.m. Wednesday 2.7 inches had fallen, beating the record of seven-tenths of an inch set on the date in 1966, said meteorologist Brooke Taber.
Source: Associated Press