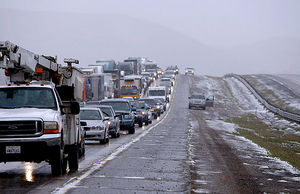 High winds, low temperatures and snow in some mountain areas forced closure of Interstate 5 over the Grapevine on Thursday morning as forecasters warned of gusts of up to 50 mph in parts of Southern California.
[
Update
at 10:45 a.m.: As of 9:30 a.m., lanes in both directions of Interstate 5 were reopened to traffic.]
Shortly after 7:30 a.m., the California Highway Patrol closed the southbound lanes of Interstate 5, and then about 8:15 a.m. shut down the northbound lanes at Vista del Lago.
"We've got icy roadway, hail, snow, black ice. You name it, it's up there," said CHP Officer Robert Rodriguez.
Officers were called out on about 20 crashes on the northern slope of the Grapevine early Thursday, including one in which a car ran into the back of a big rig, Rodriguez said. One motorist suffered moderate injuries.
The National Weather Service was forecasting winds of 20 to 30 mph, with gusts of up to 50 mph at the beaches and in some mountain areas in Ventura County and western Los Angeles County through Thursday night.
A departing low-pressure system and arriving high-pressure system were to blame for abnormally cold conditions and strong winds, said Bill Hoffer, spokesman for the Oxnard office of the Weather Service.