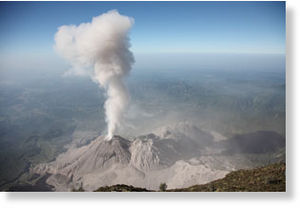 The Santiaguito volcano showered sand and ash on Monday over a large area of western Guatemala in an "unusual" and "violent" display, the national seismological institute said.
The institute said winds were carrying the ash in a northeasterly direction from the 2,500 metre (7,500 foot) high volcano in the province of Quetzaltenango, 206 kilometres west of the capital.
The ash plume spread across six provinces, raising fears of damage to crops, the institute said while classes were suspended at schools in three provinces.
Santiaguito's worst eruption occurred in 1929 when 2500 people were killed.
.