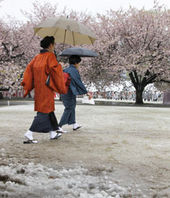 Snow fell in central Tokyo on Saturday as temperatures plunged, matching a 41-year-old record for the season's latest snowfall, the Japan Meteorological Agency said.
Snow also fell in other areas in the Kanto-Koshin regions, mainly in the early hours, with 16 cm accumulating in Kusatsu, Gunma Prefecture, 18 cm in Karuizawa, Nagano Prefecture, and 3 cm in Chichibu, Saitama Prefecture, as of 5 a.m.
Saturday's snow in central Tokyo, Yokohama, Kofu, Yamanashi Prefecture, and some other areas matched the record for the latest snowfall logged April 17, 1969.
In Tokyo's Shinjuku Gyoen National Garden, visitors enjoyed the cherry blossoms and snow, a rare view at this time of year.
.