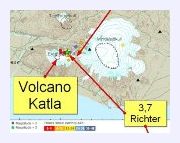 An earthquake measuring 3.7 on the Richter Scale shook the area of the erupting volcano next to the Eyjafjallajokull ice cap in South Iceland this afternoon.
The earthquake is the strongest to hit the area since seismic activity began to build at the volcano at the beginning of March.
Steinunn Jakobsdottir, an Icelandic Meteorological Office geologist told
Morgunblaðið
newspaper that only very few of the regular quakes in the area since the beginning of last month have measured above 3 on the Richter Scale. Jakobsdottir added that it is not yet known if this afternoon's quake is an important development or if it should be considered as a large but normal earth movement. The quake has not had any immediate effect on the erupting volcano - neither has it had an immediate impact on the nearby dormant Katla volcano.
.