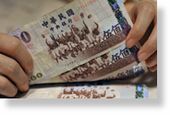 The family of a late Taiwanese mafia boss has donated 60 million Taiwan dollars (1.9 million US) to charities to fulfill the gang leader's dying wish, the authorities said Tuesday.
Lee Chao-hsiung, an influential triad leader in central Taiwan, died of liver cancer on March 11 aged 73, local media said.
His son donated the money in his name to disabled people and low-income families as well as four major religious organisations, the Taichung city government said in a statement.
About 1,000 people, including several gang bosses, attended a ceremony on Monday to set up a make-shift shrine for Lee, known as the "mafia arbitrator," the
Apple Daily
said.
Lee was best known for helping to negotiate the release of a number of kidnapped politicians and businessmen, including Taichung city council speaker Chang Hung-nien, the report said.
The paper did not specify what types of crime Lee was involved in as an underground gang leader.
His funeral, set for late April, is expected to draw more than 20,000 people in one of the island's largest gang funerals, it said.
In Taiwan, funerals of the rich and powerful often take place weeks or even months after they have died to allow members of the public to pay their respects at a shrine to the deceased before the final ceremony.
Source: Agence France-Presse