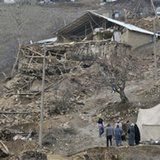 Okcular - Hundreds of earthquake survivors huddled in aid tents and around bonfires Monday in eastern Turkey, seeking relief from the winter cold after a strong temblor knocked down stone and mud-brick houses in five villages, killing 51 people.
The damage appeared worst in the Kurdish village of Okcular, which was almost razed. At least 15 of the village's 900 residents were killed, the Elazig governor's office said, and the air was thick with dust from crumpled homes and barns.
The pre-dawn earthquake caught many residents as they slept, shaking the area's poorly made buildings into piles of rubble. Panicked survivors fled into the narrow streets of this village perched on a hill in front of snow-covered mountains, with some people climbing out of windows to escape.
"I tried to get out of the door but it wouldn't open. I came out of the window and started helping my neighbors," Ali Riza Ferhat of Okcular told NTV television. "We removed six bodies."
The Kandilli seismology center said the 6.0-magnitude quake hit at 4:32 a.m. (0232 GMT, 9 p.m. EST Sunday) near the village of Basyurt in a remote, sparsely populated area of Elazig province. The region is 340 miles (550 kilometers) east of Ankara, the capital.
The U.S. Geological Survey listed the quake at 5.9 magnitude.
Prime Minister Recep Tayyip Erdogan and Kandilli Observatory's director, Mustafa Erdik, urged residents not to enter any damaged homes, warning they could topple from aftershocks that Erdik said could last for days.
More than 100 aftershocks measuring up to 5.5 magnitude shook the region on Monday alone.
In addition to the deaths, 34 people were being treated for injuries, Turkey's crisis center said.
Abdulkerim Sekerdag, 72, said he had just risen for early morning prayers when the quake hit.
"The jolt threw me onto the ground," he told The Associated Press. "When I got up I checked my animals and then I checked on my neighbors."
"Two of them were buried. We pulled them out," he said, adding that they were alive but injured.
Men used shovels and bare hands to dig two bodies out from under piles of dirt, rubble and concrete blocks, video footage showed. Both bodies were covered in blankets and carried away. One appeared to be a baby or young child.
Women in veils gathered near the rescue scenes, some crying.
"Everything has been knocked down, there is not a stone in place," said Yadin Apaydin, administrator for the village of Yukari Kanatli, where three died.
Fifteen people were killed in the nearby village of Yukari Demirci, Gov. Muammer Erol said, while four each were killed in the villages of Kayalik and Gocmezler and 10 others died after being taken to a hospital in the town of Kovancilar.
Most of the dead were immediately buried according to Muslim traditions. A few funerals had to be put off until Tuesday.
The temblor also knocked down barns, killing many farm animals. A half-dozen dead cows were seen partially buried near one collapsed home. One man, Haci Sekerdag, said he lost eight cows and calves - his main livelihood.
The Turkish Red Crescent set up tents and villagers laid plastic sheeting to shelter them from the cold and dirt. The government said it rushed ambulance helicopters, prefabricated homes and mobile kitchens into the stricken area.
Erdogan blamed the region's mud-brick buildings for the many deaths and said the government housing agency would build quake-proof homes in the area.
The quake was also felt in the neighboring provinces of Tunceli, Bingol and Diyarbakir, where residents fled to the streets in panic and stayed outdoors. Schools were closed for two days. In Tunceli province, the quake caused one school's walls to crack, the state-run Anatolia news agency reported.
A museum in Elazig displaying artifacts from the Iron-age Kingdom of Urartu was not affected by the quake, and nearby dams were also intact.
Earthquakes are frequent in Turkey, much of which lies on top of two main fault lines. In 1999, two powerful earthquakes struck the country's northwest, killing about 18,000 people. In 2003, a 6.4-magnitude earthquake killed 177 people in Bingol, including 84 children whose school dormitory collapsed.
Monday's quake in eastern Turkey followed deadly recent temblors in Haiti and Chile, but Bernard Doft, the seismologist for the Royal Netherlands Meteorological Institute in Utrecht, said there was no direct connection between the three.
"These events are too far apart to be of direct influence to each other," he said.
Richard Luckett, a seismologist from the British Geological Survey, said there has not been a spike in global seismic activity.
"If there was a big increase in the number of magnitude 6.0s in the past decade we would know it, because we would see it in the statistics," Luckett said. "We haven't seen an increase in 7.0s either."
He said scientists often see strong earthquakes but they don't get reported because the damage or death toll is minimal. According to USGS data, the world is hit by about 134 earthquakes a year in the 6.0- to 6.9-magnitude range - or about two a week.
"The point is that earthquakes are common and always have been," he said.