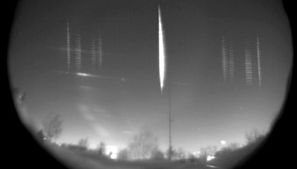 The bright shooting star that was seen in the sky of southern Finland on Friday 19 February at 00.05 AM could have dropped a 100 gram meteorite in Kärkölä, in Southern-Häme.
The fireball that was seen shortly after midnight in the sky over southern Finland could have dropped a spacerock along the Riihimäki-Lahti train track. The fireball was observed in Kuru and was captured by six meteorite-observing cameras.
The bright part of the trail in the sky has been determined to be around 100 meters in length based on the video footage of the fireball.
The mathematician and meteor researcher Esko Lyytinen estimates that the fireball dropped a rather small meteorite, weighing maybe ca 100 grams.
The probable crash site is somewhere in the region of Lappila, near the train track leading from Riihimäki to Lahti.
It's unlikely the spacerock will be found in the snowy terrain.
Only 13 meteorites have been found in Finland so far. The most recent incident is the meteorite that fell through a fisherman's hut in Haverö almost 40 years ago in 1971.