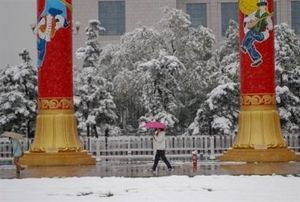 Beijingers woke up Sunday morning to a city turned white with snow that came far ahead of the winter. It was only in the later part of the day that one learnt that 186 doses of silver iodide went into persuading the clouds to release snow flakes.
The metrological department said it had started seeding the clouds from 8pm in Saturday to beat down lingering drought in and around Beijing. The department claimed success in producing 16 million tones of snow for the city.
"We wont miss any opportunity of artificial precipitation since Beijing is suffering from the lingering drought," said Zhang Qiang, who is in charge of the Beijing metrological office, said in a statement.
The snow kept falling till mid-afternoon pushing down temperatures to minus 2 Celsius (29 Fahrenheit). Strong winds from the north made aggravated the chill.
Beijing Evening News
said it was the earliest case of snow to hit the capital in 10 years, Snow also fell in the northeastern provinces of Liaoning and Jilin, the northern province of Hebei, the eastern port city of Tianjin.
China's meteorologists routinely make rain by injecting special chemicals into clouds. But they have so far not been able to suppress the spread of drought in the northern part of the country this year.